End is near: 'Catastrophic' euro should be abolished, says its architect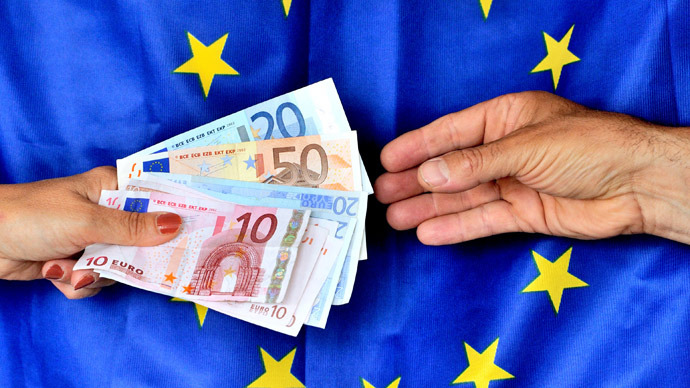 The same man who called for a united Europe and spearheaded the euro currency in 1999 , Germany's former finance minister Oskar LaFontaine has formally retracted his support for the troubled currency, and is calling for its abandonment.
Consistently weak data and little upward momentum in recovery has caused severe doubts about the shared financial responsibility that comes along with the continent-wide currency.
The current trajectory of the euro, LaFontaine argues, is 'leading to disaster'. Lafontaine wrote his remarks on Germany's Left Party website, and urged the jettisoning of the euro.
"The economic situation is worsening from month to month, and unemployment has reached a level that puts democratic structures ever more in doubt," he said.
LaFontaine took particular aim at Chancellor Angela Merkel, writing that she will only "awake from her self-righteous slumber" after Germany itself becomes a victim of the crisis.

The dichotomy of the financial crisis dialogue borders along Germany's severe austerity measures, and the rest of the EU's general rejection. Germany's efforts to 're-balance' the euro zone aren't working.
The southern economies, including France, Italy, and Spain, are shrinking. Unemployment has risen to 12.1%, according to Eurostat's data released on May 1. In Greece and Spain, the numbers are sobering: 3 out of every 5 people under the age of 25 are unemployed.
LaFontaine chastised Germany's strong-handed tactics in carrying out internal devaluations in Spain, Portugal, and Greece, labeling such efforts as a 'catastrophe'. The wage 'squeezes', according to LaFontaine, are actually just self-serving tactics to improve their own export niche.
"The Germans have not yet realized that southern Europe, including France, will be forced by their current misery to fight back against German hegemony sooner or later," he wrote.
The strains of the eurozone crisis, coupled with the most recent bail-out scare in Cyprus, have drawn in a wide array of criticism from all political platforms, but some still remain positive.
In an interview with Bloomberg, Finland's Europe Minister Alexander Stubb defended the euro as the most stable currency Europe has ever seen, and doesn't foresee a break-up in his life time:

"The human mind has a tendency to forget, but look at the devaluations, revaluations, the peggings to the Gold Standard, the inflation rates and the monetary instability that we've had throughout European currency history," said Stubb.

You can share this story on social media: