'Throwaway culture': Euro area youth unemployment soars amid 3-year overall low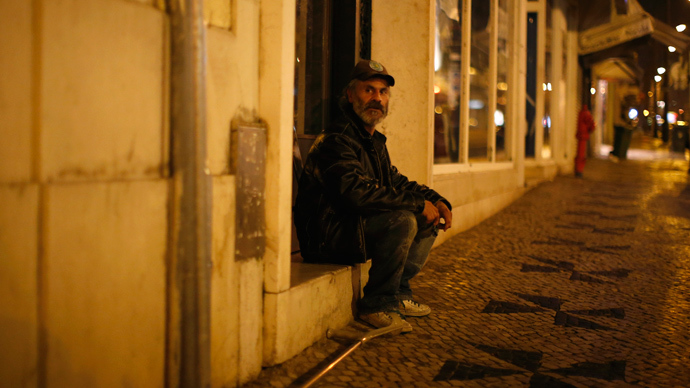 Euro zone unemployment fell for the first time in three years in October to 12.1 percent, but youth unemployment hits another record-high, with nearly 6 million people between 18 and 25 with no work.
A total of 19.3 million people across the euro area were jobless in October, with the unemployment rate going slightly down to 12.1 percent from September's 12.2 percent, the European Union statistics office said in preliminary data Friday. 
Unemployment for the 28-nation euro zone stands at 10.9 percent, unchanged from September, with 26.654 million people out of work.

Youth unemployment, however, remains a key problem, as it hit an all-time high of 24.4 percent; seasonally adjusted rates in Spain soared to 57.4 percent youth unemployment, and 28.8 percent of the total population jobless.
"It's a throwaway culture that discards young people as well as its older people. In some European countries, without mentioning names, there is youth unemployment of 40 percent and higher," Pope Francis said on Tuesday, adding, "a whole generation of young people does not have the dignity that is brought by work."
North south divide

The divide between north and south also widened. In Austria and Germany, 5 percent are jobless, in Spain nearly 27 percent, and youth unemployment is at a record high.

The unemployment rates highlight the larger gap in recovery from the economic crisis that has plagued the currency-bloc over the past five years. Spain's unemployment is still the highest in the 17-nation bloc with 26.7 percent out of work.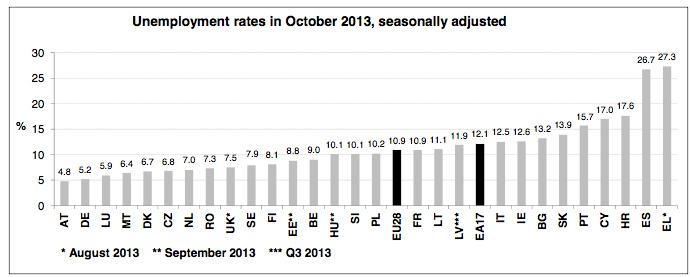 Debt, unemployment, and weak exports still plague the continent, especially as the periphery countries continue to contract.
Italy's unemployment rate was left unchanged at 12.5 percent nearly twice that of Germany, Europe's largest economy, which also remained unchanged at 5.2 percent.
France, which until recently embraced Germany's 'austerity' approach to euro-zone recovery, saw unemployment drop to 10.9 percent from 11.1 percent in September. The victory will be much needed for Francois Hollande, the country's most unpopular president in decades.
Most economists had predicted the rate would stay unchanged at 12.2 percent, the highest since the euro currency's debut. The last time the jobless rate fell was in February 2011.
The slight improvement is a hopeful sign the euro zone's financial crisis is coming to an end. Cyprus, Spain, and Greece are still receiving tranches of aid in IMF loans, and Spain may soon seek similar emergency funding, even though the Bank of Spain said the recession is over after growth picked up in the third quarter.

Ireland will become the first EU country to exit its bailout plan on December 15.

Shaky economic growth in the third quarter slowed to 0.1 percent, after more robust 0.3 percent expansion between March and June 2013.
The annual inflation rate accelerated to 0.9 percent in November, up from 0.7 percent in October, moving closer to the European Central Bank's goal, but stoking alarm over deflation. 
Greece, Cyprus, and Ireland all suffered deflation in October, and prices in Greece hit a 50-year low.
Economic sentiment in the 17 countries using the euro strengthened by 0.8 points to 98.5 in the seventh straight month of gains, according to a European Commission survey on Thursday, beating economists' expectations.