No winners if sealing trade agreement tanked Ukraine economy – Yanukovich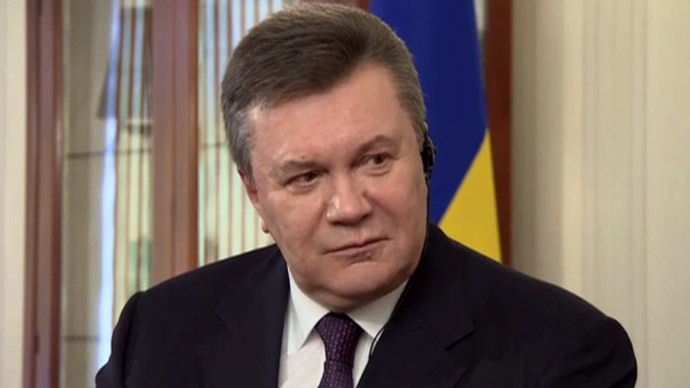 Neither the EU, nor Ukraine and Russia would have gained if Kiev had rushed to sign the trade association agreement back in November, Ukraine's ousted President Viktor Yanukovich has said.
"With the terms the EU association agreement offered, it wasn't advantageous for any party – neither for Europe, nor for Ukraine and Russia," Viktor Yanukovich said on Wednesday in an interview with the Associated Press in Rostov-on-Don.
"My stance was quite public and transparent. Even today I believe that, regardless of who had been president at the time, no other decision could have been taken. Any other resolution would have been anti-national and contradictory to Ukraine's national interests," Yanukovich added.
In November 2013, Ukraine chose to shelve the trade association agreement with the EU, instead choosing to activate a dialogue with Russia and CIS countries.
But Yanukovich stressed that Kiev hadn't completely rejected the deal. "We asked for a pause, to reflect, to find solutions to the contradictions that were quite obvious at the time," he said.
"I believe that sooner or later Europe will resolve the issues concerning trade in an EU-Ukraine-Russia triangle. It's inevitable because all politics is based on economy."
Effects on Ukraine
Europe promised that signing the association agreement would save Ukrainian exporters nearly $490 million over 10 years, as 95 percent of goods would have zero customs duties. But Yanukovich said the deal would have ruined the country's economy.
"Europe wouldn't have gained if Ukraine'seconomyhad collapsed. It would have been the Europeans to blame for that," Yanukovich said.
Briefing on the key points of the trade agreement, the ousted president explained the possible effects on machinery manufacturing and agriculture.
Machinery is composed of three main parts: military, transportation and power.
Military machinery, an industry that employs over 500,000 people in Ukraine, bears no relation to EU countries, because it's produced in complete cooperation with Russia and other CIS countries, Yanukovich said.
On top of that, Ukraine consumes a very small portion of it, only about 10 percent, with the biggest share being exported to Russia and other CIS countries.
The same is true for transportation and power machinery, where discrepancies in technical standards are another big issue.
"Due to technical standards, Europe has never bought and won't buy [Ukrainian] power machinery."
"The standards are very different. Let's start from the [railway] gauge which is narrow in Europe and broader in Russia and the CIS."
Ukraine agriculture would also be hit dramatically if it opened its market for European producers.
"The subsidies in Europe for agriculture reach 30 percent. In Ukraine it's 3 percent. So Ukraine's agricultural produce wouldn't be able to compete with the European," Yanukovich said.
Trying to defend its market from re-exports, Russia would also lift customs fees, which would further erode the market.
"That's why we couldn't accept such an agreement. It was economically disadvantageous for us and we needed to find a best solution jointly with Europe and Russia."
You can share this story on social media: