EU rescue plan: one step forward, two steps back
Published time: 9 Dec, 2011 08:31
Edited time: 9 Dec, 2011 16:44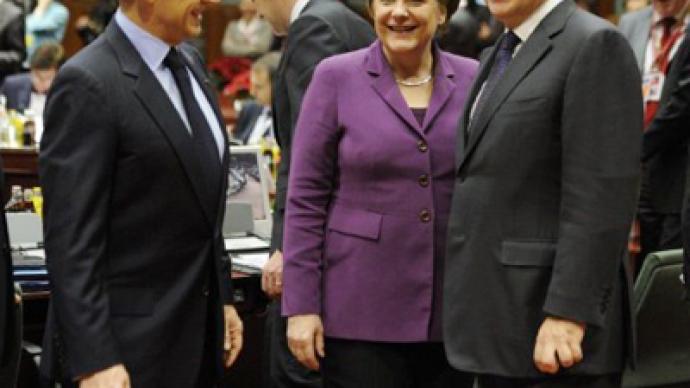 The so called "Merkozy" diet plan for Eurozone states does not seem to be appreciated by the entire union which is why the only positive step made so far at the EU summit is to increase supporting funds and apply strict fiscal restrictions to the 17.
­The new intergovernmental treaty meant to save the euro currency will include the 17 eurozone states plus as many as six other European Union countries – but not all 27 EU members. Nicolas Sarkozy, French President says he would have preferred a treaty among all the members of the European Union."We would have had rather liked to have a reform treaty with 27 countries, this was not possible given the position of our British friends, so this will be an intergovernmental treaty with 17 countries open to whoever wants to join, and already a lot of countries have let us know that they would like to join. At the moment two countries clearly said that they will stay out, and it is Hungary and the United Kingdom."

Herman Van Rompuy, President of the European Council said EU member states have agreed to strengthen fiscal rules and help countries in dire straits. "For the short term we agreed on immediate action to overcome the current difficulties and in the long term we agreed on a new fiscal compact for the Eurozone. As regard to the short term, we are increasing our financial resources to address the crisis we face. The Euro area and other member states will aim to make available additional resources of up to 200 billion euro to the IMF."

Christine Lagarde, IMF Managing Director added that 17 EU have made a "good step in the right direction" by approving three key components "Number one, they want to really consolidate their fiscal union, number two they decided to accelerate the European stability mechanism and number three they've decided to add to the resources of the International Monetary Fund."

Angela Merkel, German Chancellor said the result of long negotiations will be seen as soon as the union makes joint efforts. "I believe after long talks there is a very important result because we learn from the past and the mistakes, and we say in thefuture: binding agreements, binding rules, more influence for the (European) Commission, more unity and therefore more unity and with that more coherence. That is our contribution to making the euro safe."

Friday's session is expected to be held with the same if not more stressful manner while market participants hope EU members will agree to an intergovernmental treaty given that Britain, Hungary and Sweden hold off on proposal to amend the Eurozone treaty and apply tough fiscal policy.
Anna Bodrova analyst from InvestCafe says David Cameron's Government is trying to protect his country's economy by voting against a "fiscal diet" "For about a year the British government has been strictly monitoring state budget spending and debt volume through economising and cost cutting. These regulations slowedthe paceof GDP growth; on the other hand EU debt crisis is putting pressure on the British economy. That is why Cameron could not afford any extra obligations which would have added to the negative effect on the economy."