Make or break for Eurozone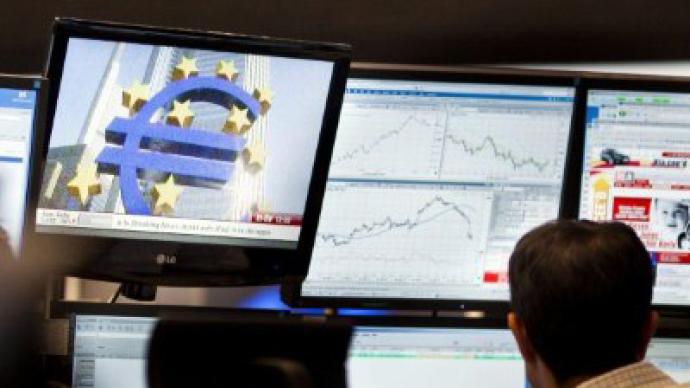 With the unfolding European crisis affecting world economies, including Russia, all eyes are on the EU summit on Friday, as well as Thursday's ECB meeting. The destiny of the Euro zone is at hand.
Flooding with money? …Whatever happens at thursday's ECB meeting over interest rate will be overshadowed by the following days summit. It's generally expected the bank will choose to cut it interest rates by 0.25% to 1%, making borrowing cheaper in the Euro zone. It's unclear how this will effect the euro. It could strengthen, with investors taking the news as a real chance for Europe to recover, believes Zarina Saidova from Finam.Among other issues the ECB will be mulling is the European Stability Mechanism (ESM). It is planned to provide for another 500 billion euro, in addition to the 600 billion euro in the European Financial Stability Facility (EFSF). However, where all that extra money would come from remains a mystery for many, says Anna Bodrova of Investcafe.Anyway, Steen Jakobson, the chief economist at Saxo Bank, believes that another round of money injection would ruin the European Union. "The real issue that is hidden behind the details of this week's agreements is that the insolvency problem remains there long term and the move can just become another attempt to win time and steal the scene with liquidity." Or stricter rules? The so-called Merkozi agreement between German Chancellor Angela Merkel and French President Nikolas Sarkozy will be one of the key issues up for discussion at the EU summit on Friday. Germany and France want to make EU members more financially disciplined and strictly punish those whose budget deficit goes beyound 3% of GDP.Only a strict financial discipline will eliminate a core of all evil, agrees Dmitry Voblikov, an analyst at Forex Club."Some European states keep on spending more than they earn, and therefore are albatrosses around the necks of other countries."Italy also demonstrated it was ready to join the move. The country came out with a plan to cut budget expenses by 30 billion euro during 2012 – 2014, with Mario Monti, Italian Prime Minister, giving a personal example of financial self restriction. The Prime Minister refused to take a salary during the period.
You can share this story on social media: