Eurozone's crisis threatens the future of European Union – Italian PM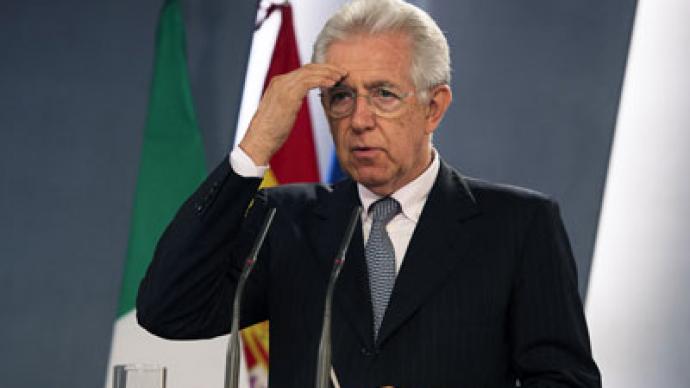 Disagreements over the handling of the debt crisis could undermine the future of the European Union, according to Italian Prime Minister Mario Monti.
­"The tensions that have accompanied the euro zone in the past years are already showing signs of a psychological dissolution of Europe," Monti told an interview to Germany's Spiegel magazine.
Monti said he had talked with German Chancellor Angela Merkel about growing discontent in Italy with Germany and its budget policy, but also with the EU and the euro. Meantime, Monti suggested, many Germans were in the wrong, believing Italy had already received financial aid "which simply is not the case. Not a single euro."

Separately, the chief of Italy's central bank, Ignazio Visco, pointed out in an interview to the Italian daily Repubblica that his country did not yet need a bailout. He said Italy is likely to avoid fund intervention if it manages to promote growth and won't give up fiscal discipline.
Meanwhile Italian Premier Monti has also urged for immediate action in order to bring down high government borrowing costs. "I can only welcome the ECB's statement that there is a 'severe malfunctioning' in the market for government bonds in the euro region," Monti said. He added that "some countries have to shoulder 'extraordinarily high' costs to finance their debts".

Yields on Italy's 10-year bonds hit 6.28% last week and ended the week at 6.01%, comparing to 1.42% for 10-year German debt. Meanwhile Spain's 10-year bond yield rose to 7.44%, before ending the week at 6.77%.
Spanish and Italian borrowing costs rose last week after the ECB chief Mario Draghi said Spain and Italy would have to formally request bond buying.
However, Germany benefits from the high rates of its neighbors' bonds as it keeps German rates at a lower level during the crisis, according to Monti. "The high yields Italy has to pay right now subsidize the low ones Germany is paying," he stressed. "Without that risk, the yields on German government bonds would be somewhat higher."