Economic downturn has Russians saving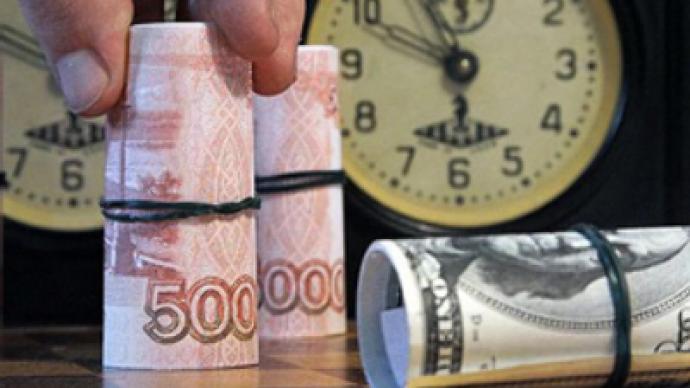 Data from Russia's Deposit Insurance Agency shows that in 2009 the volume of individual deposits in Russian banks increased by a record 1.5 trillion Roubles to reach more than 7.5 trillion, Kommersant writes.
Deputy general director of the DIA, Andrey Melnikov, says the increase reflected sums in at call accounts and fixed term deposits.
"This is money brought in on fixed-term deposits and also on on-demand deposit accounts as well as personal checking and salary accounts."
The data shows a surge in deposits from pre-crisis levels with almost a third of the annual inflows – around 450 billion Roubles – coming in December. Yulia Demenyuk, deputy director of the retail department of VTB 24, believes the data shows an increased focus on saving by the general population.
"From our observations, individuals in a larger degree are moving towards saving money, rather than spending it, and this factor, undoubtedly, worked in pushing the active influx of money in banks at the end of last year."
Rusrating financial analyst, Aleksandre Ponomaryov agrees, but adds that it also reflects reduced consumption.
"First of all, it's lowering consumption, which is coupled by a lower income as well. And second, it's people's desire to be on time with putting their money into a bank while deposit rates are still high enough."

Sovlink analyst, Olga Belenkaya, believes the recent lowering of deposit rates by Sberbank will reduce some of the savings impulse.
"Already in January, the largest player on the deposit market, Sberbank, noticeably lowered rates and their example will most likely be followed by other players. Because of this, savings growth could slow down. Just as in last year, deposits allowed for a profitability that was significantly higher than inflation."
Deputy head of Alfa-Bank's retail business department, Ilya Zibarev says the December inflows show people are trying to lock in deposits before rates fall further.
"Everyone sees the trend by banks in lowering rates, and if you have money, than you need to place it in a deposit now before rates fall to pre-crisis levels."
You can share this story on social media: