ECB to engage in 'unlimited' bond buying - reports
Published time: 5 Sep, 2012 19:26
Edited time: 6 Sep, 2012 09:51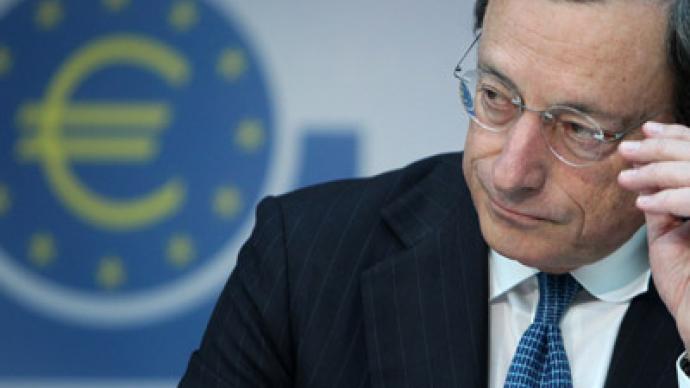 The head of the European Central Bank (ECB) is allegedly planning to combat the Eurozone crisis through the buying of short-term peripheral sovereign debt, according to the information leaked to the press.
Mario Draghi, who will speak at Thursday's ECB meeting, is expected to unveil the scheme in a bid to tackle the ongoing eurozone crisis.  The plan id thought to rest on  another round of bond buying.
According to Bloomberg, the ECB bond playing will not involve setting public yield caps. Instead, bond buying will be unlimited in durations up to 3 years, but sterilized, which will allay the fears that the ECB "has started printing money".
To "sterilize" the acquisition of the bonds, the ECB is expected to pull out of circulation the amount of money equal to the amount that would be spent on bond buying.
The bond plan reportedly has the support of the council and the plan will stress conditionality.
The euro slowed its recent gains Tuesday ahead of Thursday's ECB meeting. The markets are also on edge as to whether the ECB will lower its benchmark rate.
According to a survey by Bloomberg, economists are forecasting a 25 basis point cut, sending Europe's benchmark rate down to 0.5%.