Eurozone break up will lead to 'catastrophic' unemployment - UN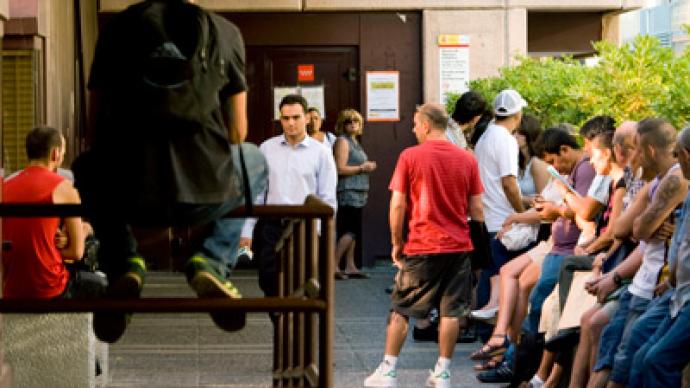 The UN Labor body cautions that a 'catastrophic' rise in European youth unemployment could happen if Greece leaving the eurozone spearheads a split.
The average unemployment rate in the 17 eurozone member states would rise to 13%, Ekkehard Ernst, a senior economist with the UN International Labor Organization told the German daily Sueddeutsche Zeitung. Crisis-hit Spain would see roughly a third of its population out of job by 2014, with jobless rates among 15-24 year-olds rising to 51.3%.The eurozone's strongest economy, Germany which can so far boast the lowest unemployment rate in the area, would head towards the gloomy number of an 11% jobless rate by 2014.The economist's predictions echoed the newly released EU statistics agency figures which showed on Friday that jobless numbers across the eurozone hit a record 18 million in July, with an additional 88,000 people joining the ranks of the unemployed throughout the month. UN's Labor body's statement echoes last week's speech by European Central Bank policymaker Joerg Asmussen who said Greek exit from the eurozone would be associated with a loss of growth and higher unemployment and would be very expensive. However, he added that it would still be manageable.However, soaring unemployment is seen as a tool to ease inflationary pressures in the coming months, in what the ECB might see as an argument in favour of a rate cut from 0.75% at next week's policy meeting by the European Central Bank. The ECB expects the unemployment rate to fall below 2% by the end of 2012.However, inflation in the area has increased again for the first time since September reports the European Union's statistics office, estimating it jumped more than expected in August.