Dolce&Gabbana to bite the dust if forced to pay €400mn fine
Published time: 24 Jul, 2013 13:45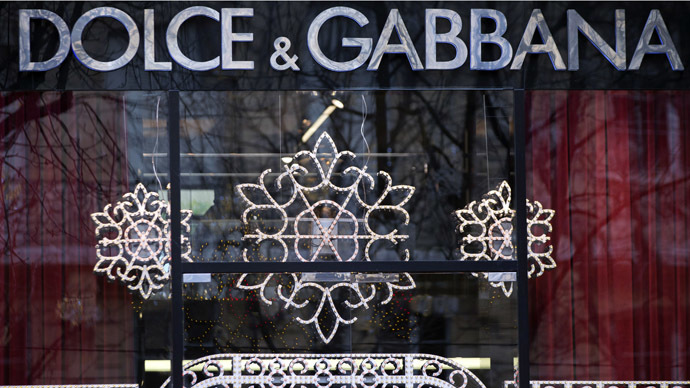 Italian fashion duo Domenico Dolce and Stefano Gabbana say their world-famous Dolce & Gabbana business won't survive if a tax fraud conviction is upheld and they have to pay a €400mn ($527mn) fine.
In June an Italian court sentenced Dolce and Gabbana to 1 year and 8 months in prison for tax evasion of almost a billion euros.  Prosecutors argued that the pair had evaded taxes on income of €416m each and €200m through a Luxembourg-based company, the Guardian reports.  A court has agreed to give them  suspended 20-month sentences if they  pay a €400 million fine.
The designers who have always denied the charges are due to appeal the ruling.
"We will close. What do you think we could do? We will close. We would not be able to resist. Impossible," said the designers, when the Corriere della Sera newspaper asked what they would do if the multimillion-dollar fine is confirmed. "We're the good guys that have been creating clothes. We live in Italy and pay taxes here. We are not going to move abroad," the newspaper quotes  the designers.
On Friday Dolce & Gabbana closed their Milan stores for three days to protest comments by a municipal trade councillor calling them ''notorious tax evaders''. The words "Closed for Indignation" were emblazoned in the windows of the shops, Reuters reports.
The case is one of the few high-profile tax evasion cases to come to light in Italy, where corporate tax rates are among the highest in the world, according to Reuters.