Disney joins project bringing toys to life on tablets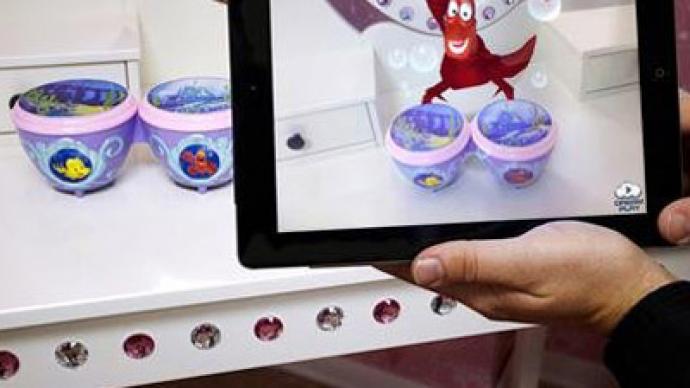 Many children dream their toys will come to life, so Disney Corp, JAKKS Pacific toy-maker and Los Angeles' billionaire Patrick Soon-Shiong have teamed up to create a new app that will make toys walk and talk– on tablet and smartphone screens.
DreamPlay, is a new product, developed by JAKKS and Soon-Shiong's technology company NantWorks, that works via an app which can be downloaded on tablet or smartphone. It provides animation on-screen when a device's camera is trained on a toy designed for DreamPlay. The app's images and video clips are stored in the cloud on remote servers and are streamed to devices after recognition of specific toys."One of our top priorities is to integrate cutting-edge technology with our incredible Disney content to transform traditional toys into interactive storytelling experiences that are uniquely Disney," said Disney consumer products president Bob Chapek in a press release. "Our goal is to combine physical toy play with a digital experience incorporating the unique content that only Disney can provide."Disney, JAKKS and Soon-Shiong will present DreamPlay on Tuesday at the Consumer Electronics Show in Las Vegas.The first DreamPlay toys from the Disney Princess line will hit the shelves in October in the US, before spreading out internationally in 2014. US retailers Target and Toys R Us are among the first chains that will begin selling DreamPlay. Nordic retailing giant Top-Toy and Chinese supermarket operator Beijing Hualian Group are next in line. No prices have been announced yet, but DreamPlay are expected to be "a couple of dollars" costlier than the regular version, according to Stephen Berman, JAKKS president and CEO.Meanwhile, Disney is going to present another new toy – Disney Infinity, a sandbox video game, at a Hollywood event next week. The game was developed by Disney, Pixar and Avalanche Software. In the game players will be able to use different Disney and Pixar characters.
You can share this story on social media: