Toy trouble: Toymakers fear Xmas sales drop as kids opt for high-tech gadgets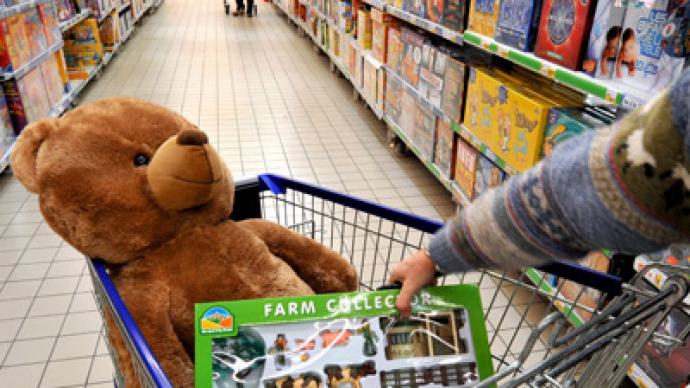 The Christmas spirit is not what it used to be: the world's toymakers are growing increasingly concerned that children are choosing electronics such as tablet PCs over traditional toys like dolls and board games.
Toymakers will most likely see their Christmas sales lower this year, as children prefer gadgets as holiday presents, according to analysts reported in the Financial Times on Monday. A source told the paper that its top selling product this Christmas was a mobile phone case. Sales to date for the year for the top toy producers, Mattel and Hasbro, are also down. Some analysts also predict lower end-of-year toy sales, which are estimated at $1.41 billion for Hasbro and $3.29 billion for Mattel.Mattel, which makes toys including Barbie and Hot Wheels, and Hasbro, which produces Action Man and Play-Doh, are said to be 'terrified' at predictions that children's loyalty is moving towards the newest technological gadgets. "The top two guys, Mattel and Hasbro, they are terrified," Sean McGowan at investment bank Needham & Company told the Financial Times. "They should be terrified, but the official party line is they're not terrified."Though the online shopping frenzy dubbed 'Cyber Monday' revealed the traditional Barbie, Subbuteo and Furby made it to the top ten on eBay's hot list; top of the list was the iPad, which got 1.7 million searches. Lego came second with 1.5 million searches and Barbie third with 300,000 searches.Hasbro is particularly concerned about the rise in popularity of tablet computers among children."Clearly, young people have an aptitude that we need to recognise," said John Frascotti, Hasbro's chief marketing officer, told Financial Times."Everyone I know who has a kid under 10 has a tablet in the house. And that tablet is the babysitter," Dylan Collins, an investor in Fight My Monster, an online gaming company, told the paper.Toymakers are also trying to make their toys more high-tech, to appeal to the kids who love high-tech devices but would play with classic toys too. "I would say the most popular toys this year are the Vtec InnoTab 2, the Kurio and the Leap Pad," Gail Donald, section manager for toys and games at John Lewis in Aberdeen told STV television.All of them – the Vtec InnoTab 2, the Kurio and the Leap Pad – boast the same capabilities as computers aimed at adults. "It's the year of the app," Adrienne Appell, trend specialist at the Toy Industry Association trade group, told the San Francisco Chronicle.Among traditional toys that come with apps are Furby, Hot Wheels, and the WWE action figure wrestler. Producers of Magic Slate, Doodle-Track Car and Twister Dance came up with new high-tech versions of their classic toys: a little push car has a light sensor enabling it to follow any line drawn by a child, while the Twister Dance now comes with a music console. "It's hard for toys to compete with virtual devices, and it won't get easier," Adam Wolff, vice president of Excel Development Group, a toy development agency, told the San Francisco Chronicle. In April Mattel reported that its first-quarter profit dropped 53 percent, pulled down by costs tied to an acquisition and lower sales for Barbie and Hot Wheels. Mattel made an attempt to join a venture into video games in 1980s, but it made it nearly go bankrupt in 1983 after it posted a $394 million loss. The company then decided to focus on core brands and recovered by 1987.Apple sold 14 million iPads over three months to the end of September, while iPad mini sales are expected to reach 12 million units by the end of 2012. Google's Nexus 7 tablet is selling close to one million units a month.
You can share this story on social media: