Raiders of the Star Wars franchise: Disney buys Lucasfilm for $4.05bn
Published time: 31 Oct, 2012 08:35
Edited time: 31 Oct, 2012 13:54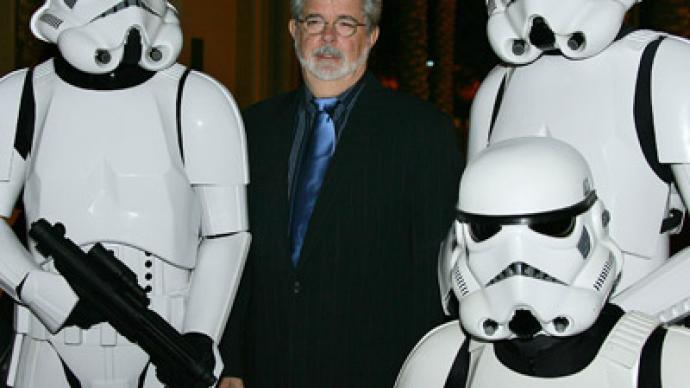 Walt Disney Co is to buy Lucasfilm - the company of "Star Wars" director George Lucas' - for $4 billion. Disney also revealed plans for a new episode of "Star Wars" in 2015.
­The deal includes Lucasfilm's high-tech production companies, Industrial Light & Magic and Skywalker Sound, as well as rights to the "Indiana Jones'' franchise. Disney will pay about half in cash and a half in stock with issuing approximately 40 million shares for Lucasfilm.

The new "Star Wars" movie with a working title of  "Episode 7'' is set for release in 2015. This means the story will take place after "Return of The Jedi". The seventh episode will be followed by with films eight and nine, after which more "Star Wars" movies would be made every two to three years, according to Disney.
"It's now time for me to pass Star Wars on to a new generation of filmmakers," Lucas said. "I've always believed that Star Wars could live beyond me, and I thought it was important to set up the transition during my lifetime''.

Currently Lucas owns 100% of the San Francisco-based company. He will be succeeded as head of Lucasfilm by Kathleen Kennedy, current co-chairman, who will report to Walt Disney Studios Chairman Alan Horn, Disney said in the statement. Meanwhile Lucas will serve as a mere "creative consultant" in the new movies.
Even before the deal George Lucas has been considered the 36th richest celebrity in the world, with a net worth at $3.3 billion. After leaving Lucasfilm he plans to focus himself on a major "Bill Gates-style philanthropic initiative" focusing on education and health issues.
The first "Star Wars" film came out in 1977, and has been followed two trilogies – three films from 1977-1983 and three prequels from 1999-2005. The movies have earned some $4.4 billion at the box office globally over the last 35 years and created a huge franchise of characters and stories.

"The franchise provides a sustainable source of high quality, branded content with global appeal and is well suited for new business models including digital platforms," Disney said.
Lucasfilm joins animated film producer Pixar, Marvel Studios, ESPN and ABC purchased by Disney over recent years. For comparison, Pixar was bought for $7.4 billion in 2006 and Marvel had a price tag of $4.2 billion in 2009.