Russian oligarchs settle $1.4bn dispute, avoid legal battle in London
Published time: 4 Dec, 2012 11:13
Edited time: 4 Dec, 2012 15:53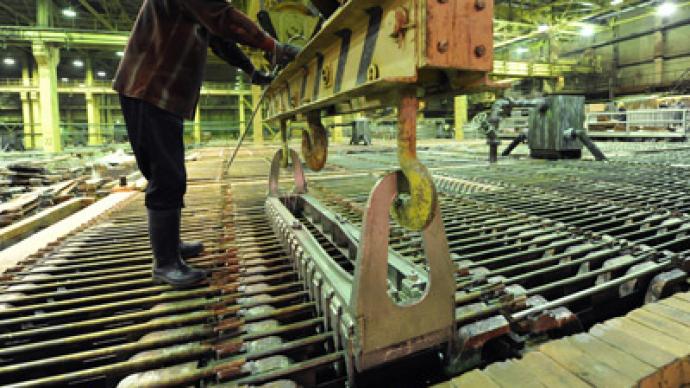 Russian billionaires Vladimir Potanin and Oleg Deripaska have reached a new shareholder agreement, bringing to the end a $1.4bn dispute over rights at Norilsk Nickel before it went to a London court.
­The agreement was signed by Norilsk Nickel's core shareholders Deripaska's RusAl and Potanin's Interros. Under the deal, Potanin was named Norilsk's General Director instead of Vladimir Strzhalkovsky. Currently Potanin owns a 28% stake in Norilsk through his Interros Holding and Deripaska has 25% through aluminum producer Rusal PLC.

Millhouse Capital owned by billionaire Roman Abramovich purchased a 7.3% stake in Norilsk Nickel worth about $2 billion in a bid to settle a four-year battle between Deripaska and Potanin. 
Under the terms, Rusal, Interros and Millhouse Capital will place 22% of Norilsk Nickel in a specially created bank account, RBC daily reported, citing a source familiar with the matter. It means each of them would contribute about 7.3%. Millhouse would use this stock for voting, according to the source.

Rusal and Potanin are committed to keep their stakes in Norilsk Nickel for five years and Millhouse for three years after the date of the agreement, "subject to certain exceptions," Rusal said without providing any details.

The parties also agreed on changes to the composition of the 13-member Norilsk board. Interros and Rusal will each get four seats and Millhouse will have three seats, according to Rusal's statement. Rusal and Interros will also nominate independent directors for the remaining two seats with one of the independent directors serving as chairman.

The Russian tycoons have been fighting since 2008, when Deripaska bought a 25% stake in Norilsk Nickel from Potanin's former business partner, Mikhail Prokhorov. Rusal claimed that Potanin violated its rights to board representation and demanded $1.4bn compensation. The two billionaires prepared to head to court in London, which was due to start on Monday, but after the new agreement it has been postponed until February.