Russian oligarchs settle peace after Abramovich vs Berezovsky verdict
Published time: 28 Sep, 2012 09:33
Edited time: 28 Sep, 2012 13:35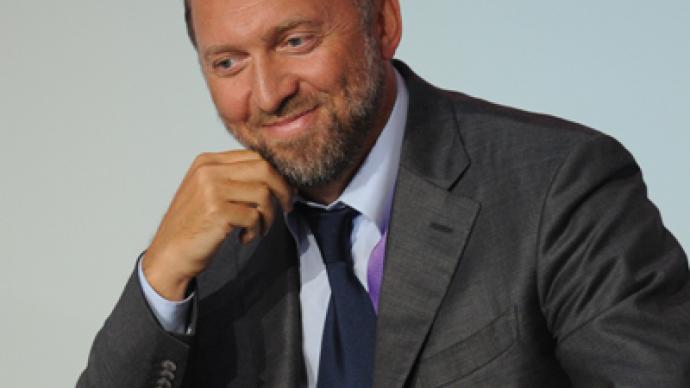 Russian tycoons Oleg Deripaska and Mikhail Cherney have settled a long running $1bln dispute before it went to court. Experts speculate that both sides decided their claims weren't worth another scandalous clash in a London courtroom.
­On Thursday Oleg Deripaska, CEO of the world's largest aluminum producer RUSAL and exiled businessman Michael Cherney reached a settlement in a dispute over a stake in Rusal, days before the case was due to restart at the High Court of London.
"Mr. Deripaska announces that Mr. Cherney's litigation in London against him has been terminated," a spokesperson for Deripaska said in a brief statement. "Neither party will be making any further comment in relation to the litigation or matters raised therein." Cherney has confirmed the settlement and hasn't provided any details as well.
Cherney sued Deripaska claiming they were partners in Russia during the 1990s and that he was owed a stake of Rusal, which could be worth $1 billion, according to Rusal's current market valuation. Currently Cherney lives in exile in Israel having fled Russia after being accused of money laundering.
In response Deripaska denied having had any business relationship with Cherney. He alleged Cherney was extorting hundreds of millions of dollars in protection payments with the help of gangsters. Cherney denied these allegations.
A peace deal means Cherney has revoked his claim. The verdict in the Berezovsky vs Abramovich case could have pushed the moguls to settle their dispute to avoid huge costs, reported Kommersant daily citing sources close to the matter.

Experts agree the precedent reduced Cherney's chances to prove his case. "It would smooth things down for Deripaska, who claimed he was forced to pay protection. For Cherney it would be difficult to prove he was a shareholder," lawyer Denis Uzoikin told Kommersant.
The Deripaska vs Cherney case has much in common with that of Abramovich and Berezovsky. In that case, Berezovsky claimed Abramovich used his close ties with the Kremlin to intimidate him and forced him to sell Russia's fourth biggest oil company Sibneft for a fraction of its value. In 2002, Berezovsky sold Sibneft to Abramovich for $1.2 billion.
Abramovich denied the charges, claiming that Berezovsky never owned shares in the company. Abramovich alleged he was paying the exiled oligarch for political protection during the turbulent post-Soviet 1990s.

The case shed light on the secret world of oligarchs and their business approach after the end of the Soviet Union, which included huge sums of money, offshore bank accounts, illicit payments, racketeering and close ties with gangsters.
Last month the UK High Court overturned a $5.6 billion lawsuit as it considered Abramovich a more reliable witness, and Berezovsky failed to prove he was a Sibneft shareholder. The legal battle between the two tycoons was one of the most expensive in British history. Now Berezovsky reportedly faces a 40 million pound check for legal expenses.