Cyprus eases controls on banks, resumes trading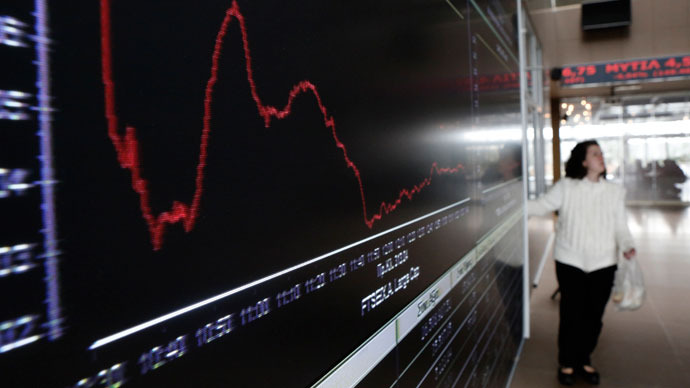 The Cyprus Finance Ministry has raised the ceiling on transactions, which now do not require Central Bank approval to 25,000 euros, as the country's stock exchange resumed limited trading after being closed for over two weeks.
The Cyprus General Market Index fell 0.5 percent on opening and continued further dropping during the day. Shares of the nation's two biggest banks, Bank of Cyprus and Cyprus Pуopular Bank or Laiki, due to be shut as part of an international bailout, won't be traded for the next ten days. 
The two fallen giants account for 59 percent of the Cyprus index's weighting, according to Bloomberg. Both companies are also listed in Athens. Hellenic Bank Pcl, the third-largest lender, makes up another 15 percent of the Cypriot gauge.
The benchmark measure pulled back 2.6 percent to 99.46 at the close in Nicosia as Hellenic Bank Pcl dropped  20 percent, cruise operator Louis Plc tumbled 18 percent and Logicom Ltd fell 10 percent. There was no volume in the index's other 15 stocks. Traders completed 38 transactions today for a total of 19,209 euros, according to the Cyprus Stock Exchange website. Cypriot shares last traded on March 15.

The first effective haircut of 37.5 percent of deposits over €100,000 is expected to start on Tuesday in the Bank of Cyprus, while a further 22.5 percent would be held up for up to 90 days  and may also be lost. In return for their lost money, the depositors will get bank shares that are nominally worth €1 but are actually of very little value for the foreseeable future.
Cyprus banks reopened last week with temporary restrictions limiting daily withdrawals to 300 euros ($385). The measure is needed to prevent the "collapse of credit institutions", the country's former Finance Minister Michalis Sarris, who resigned Tuesday, explained.
Michalis Sarris handed in his resignation after an investigation was ordered into how the country's economy nearly collapsed last month. Former minister faced strong criticism for his handling of Cyprus' negotiations with its international creditors.
"To make the investigation committee's task easier, the right thing was to give my resignation to the president, which I did," Michalis Sarris, former Cypriot Finance Minister said.
The government said President Nicos Anastasiades accepted the resignation of Sarris. Michalis Sarris, 66, was appointed finance minister after Anastasiades' conservatives won general elections in February, days before the island was overwhelmed by its financial crisis.
Under the terms of the bailout program agreed earlier on Tuesday, Cyprus will pay a 2.5 percent interest rate on its rescue package with repayment starting in 10 years.

'Investigate me'

On Tuesday, Cypriots started playing the blame game in an attempt to find those responsible for the crisis. An investigative commission, which will look into how the island's economy was driven to breaking point, was sworn in.
One of the most damning indictments on the table are the millions of euros that were apparently moved out of the country, just prior to the tough levy proposal on bank deposits.
President Nicos Anastasiades called on the three-judge commission - George Pikkis, Panayiotis Kallis and Yiannakis Constantinides - to investigate himself and his family members as a "matter of priority" and with "extra vigour" in a move to counter allegations that his family used privileged information to get money out of the country before deposits were locked down.

"Because of events over these past few days I have been under scrutiny - I would kindly ask that you start in order of priority - start by investigating me in a strict manner. Don't just limit the investigation to my relatives but also extend it to transactions from my law firm where until recently I was a partner," President Anastasiades said Tuesday.

Similar accusations have also been made against other leading politicians and business figures.
The local papers have also published a list of favored savers whose loans were allegedly written off by two Cypriot banks.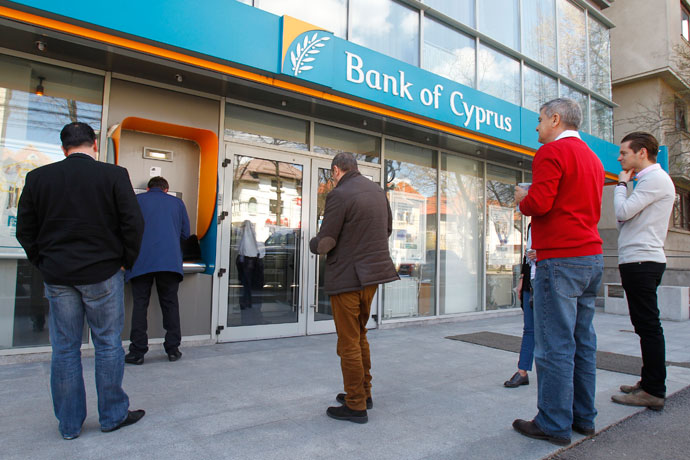 UK offers help to depositors, Russia refuses
Savers in Britain's four branches of Cyprus Popular Bank will be able to avoid deep losses under the bail-out deal as all deposits moved to the bank's UK subsidiary.
Under the deal, Laiki UK customers will regain access to any assets over €100,000, which had been frozen in the wake of a eurozone rescue.
The Russian government, in turn, made it clear it will not aid businesses that have lost money in Cyprus. "The Russian government will not take any action in such a situation," First Deputy Prime Minister Igor Shuvalov stressed in a televised interview late Sunday.
Major account holders will lose up to 60 per cent of their uninsured deposits. However, despite earlier reports major Russian depositors are unlikely to lose much of their money. Most of the Russian funds were concentrated in the VTB Cypriot subsidiary Russian Commercial Bank, the Dengi paper claims, while only the two largest banks on the island, BoC and Laiki, would be subject to haircuts.