How much will the Chile quake cost?
Published time: 2 Apr, 2014 13:12
Edited time: 2 Apr, 2014 13:48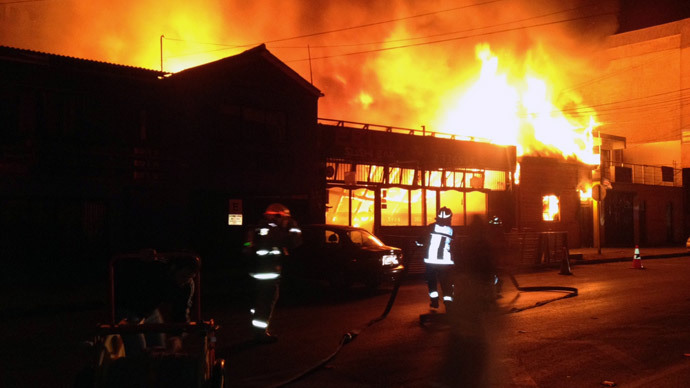 Earthquake damage in Chile could cost the country billions of dollars, a high price for a slowing economy dependent on exports.
A 8.2 magnitude-quake hit off the northern coast, killing 6 and displacing 80,000. A tsunami followed, fires broke out and many were left without power.
The catastrophic 8.8 quake that hit central Chile in 2010 killed more than 500 people and was estimated to have cost upwards of $30 billion. The majority of the damage was infrastructure-related -the government rebuilt 500,000 homes and repaired 1 million. The quake affected nearly 75 percent of Chile's population.
Tourism, fishing, forestry, and wine industries were affected by the disaster in 2010 and will be hard-hit economically this time around.
On Monday, just before the quake hit, Chile's Central Bank cut its 2014 growth forecast to 3-4 percent, as the country has experienced a significant investment slump. Before growth was pegged at 3.75-4.75 percent.
A global trend in lower metals prices has hurt commodity exporters like Chile, which depends heavily on its copper industry for revenue.
Damage to sea ports will hurt the economy in the short-term and affect the market for the country's metals. Top exports are refined and raw copper and other raw materials, and less significant are grapes, wine, and fish.
Another 5.1 earthquake hit 91 km northwest of Iquique, a key mining port city near the Peru border.
"I would expect the largest danger is to infrastructure, namely ports and roads, which could obviously affect exports," Joel Crane, a Melbourne-based Morgan Stanley analyst, told Reuters.
In 2010, billions were allocated to re-building stadiums, hospitals, and homes.
A depreciating peso and inflation, coupled with low demand for exports has weakened the Chilean economy, and quake-related costs will add extra pain.
Inflation in 2014 is expected to hover near 3 percent, which could result in higher food and fuel prices, according to the Central Bank of Chile.
President Michelle Bachelet, who was just sworn into office in March, faces a similar situation to her predecessor, Sebastian Pinera, who assumed the presidency just a month after the devastating quake of 2010.
Hundreds of earthquakes have occurred along Chile's northern coast in the past two weeks. A 6.7 magnitude quake hit on March 16, causing the brief evacuation of 100,000 people from low-lying areas.
Copper jumps
Copper prices rallied to a three-week high on Wednesday in a knee-jerk reaction to the quake in Chile.
Futures on New York's commodity market jumped to $3.06 a pound, for the metal used for currency, electricity conductors, and in wiring and plumbing.
The slowing of China's economy has had a domino effect on copper and metal prices worldwide. In 2013, copper prices averaged $3.32 per pound on the London Metals Exchange and in 2012, traded at $3.61 per pound. In mid-March prices were as low as $2.90 a pound.
Chile provides nearly a third of the world's copper. The world's biggest copper producer, state-owned Codelco said mining operations were normal, but have removed workers from a refinery after the government issued a tsunami evacuation order, Reuters reported. Other major mines like Antofagasta and Quebrada Blanca, reported no damage to mines or workers.
Situated on the 'Ring of Fire' fault line, Chilean mines are designed to withstand strong shakes and tremors.