Corn Climbs as US Cuts Harvest Forecast
Published time: 11 Jul, 2012 15:50
Edited time: 11 Jul, 2012 19:50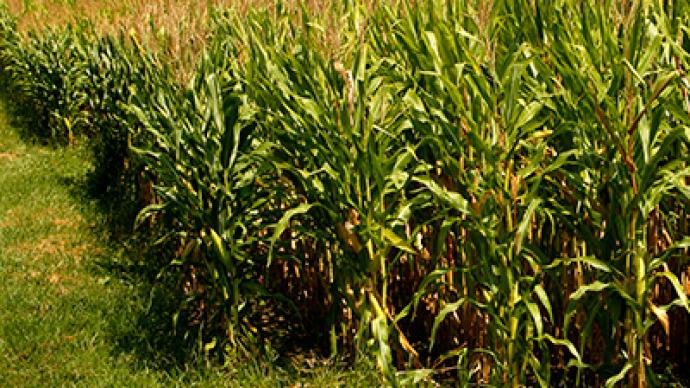 Corn futures in the United States rose 2% after the government slashed its forecast for this year's harvest as drought hits parts of the Midwest.
­The U.S. Department of Agriculture (USDA) cut corn yield by 20 bushels per acre to 146 bushels as the worst drought in nearly 25 years took a heavy toll on the crop in the world's top producer of the grain.

Only about 40 percent of the crop was in good or excellent condition as of July 8, down from 77 percent on May 18, government data shows.

Prices jumped as a record heat wave covered much of the Midwest just as 50 percent of the crop was trying to pollinate.

The latest weekly crop ratings from the USDA have confirmed a sharp deterioration in the state of corn and soy crops, keeping them at their lowest level since 1988.

Corn and soybean fields in the Midwest will remain dry until the end of the week, with temperatures hovering in the 80s and 90s degrees Fahrenheit.

"The drought of 2012 will be one for the records," said Peter Meyer, the senior director for agricultural commodities at PIRA Energy Group in New York.

He forecasts a drop in output to 11 billion bushels if the hot, dry spell lasts another three weeks.

The USDA report says farmers will harvest 12.97 billion bushels (329.45 million metric tons), instead of 14.79 billion predicted for June.

National yields will average 146 bushels an acre this year, down from a record 166 bushels estimated in June.

World output in the crop year that begins Oct. 1 will be 905.23 million tons, down from 949.93 million forecast in June, the USDA said.