Comstar-UTS posts 3Q 2008 Net Profit of $36.45 million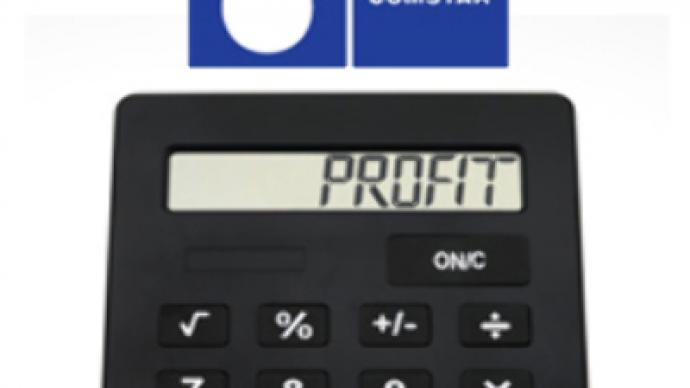 Russian telecoms provider, Comstar United TeleSystems, has posted a 3Q 2008 Net profit of $36.45 million under U.S. GAAP.
The bottom line result was a turnaround from the $68.8 million loss in the same quarter 2007, with adjusted OIBDA up 22% year on year to $184.8 million, on the back of Revenues of $421.6 million, up 16%.
The 3Q results made for a 9M Net Profit of $120.4 million, comparing with a Net loss of $8 million over 9M 2007, with adjusted OIBDA up 21% year on year, to $518.7 million, on the back of Revenues of $1.25 Billion, up 20%.
In a statement CEO, Sergey Pridantsev, noted that the 3Q results demonstrated a healthy performance for the company, with solid cash flows, with the consolidation of Stream-TV regional operations expected to add significantly from 1Q 2009. CFO, Irina Matveeva, added that the company has sufficient liquidity from within the balance sheet, and will finance the acquisition of Stream-TV from existing reserves and facilities, which are largely Rouble denominated. She added however that the Comstar-UTS is responding to the current financial crisis by cutting back on capital expenditure, but that it isn't altering its FY 2008 guidance.
"We are reprioritizing our capital expenditure plans in light of the current market conditions and postponing less urgent projects to later in 2009 and beyond. We have already reduced our projected 2008 capital expenditure to approximately US$ 360 million,which is well below the level originally anticipated, and we will also not exceed this level in 2009. As before, we expect to finance these investments from our existing funds and facilities. We have made no other changes to our full year 2008 guidance."
Vimpelcom posts 3Q 2008 Net Income of $269 million
Acron posts 9M 2008 Net Profit jump of 228%
You can share this story on social media: