China: Economic growth heading south?
Published time: 6 Jul, 2012 09:11
Edited time: 6 Jul, 2012 13:11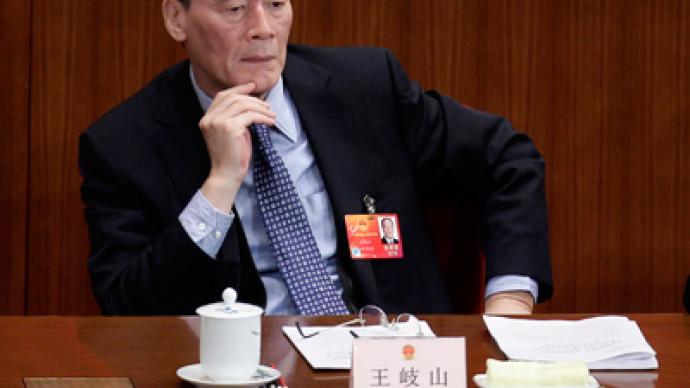 China will have difficulty meeting its 10% trade growth target this year, says the country's Vice Premier as China steps up efforts to give a boost to its faltering economy.
­Wang Qishan has also underlined challenges to supporting critical pillars for the world's second-biggest economy, that last quarter likely suffered its weakest growth since the global financial crisis began.
Wang's comments echoed earlier remarks by Commerce Minister Chen Deming, who said "if lucky" China would be able to meet its yearly target of a 10% growth in exports and imports combined this year.
An annual trade growth target of 10% already marks a sharp decline from the first part of last year, when China's annual expansion rate was averaging more than 20%.
The Vice Premier's comments follow China's unexpected interest rate cut. On Thursday China lowered the one-year lending rate by 31 basis points to 6%, and deposit rates by 25 basis points to 3% effective Friday. It is the second time it has lowered interest rates in less than a month. The People's Bank of China also said banks could lend at 70% of the benchmark rate, down from 80% previously, making loans more affordable for borrowers.
Global woes are growing about the impact of the euro zone debt crisis on the global economy. Concerns that China may miss its trade targets may suggest the country's economy may be harder hit than thought. 
The biggest concern for China as an exporting nation is if the world economy slides back into recession putting global trade into limbo. China should not underestimate the impact of external shocks on its economy, although Beijing will try to keep trade growth stable as far as possible, the official Xinhua news agency quoted Wang late on Thursday as saying.
The current global economy situation remains grim, with unstable factors and uncertainties increasing, Wang added.
Despite a slowdown, Chinese export and import growth surprised market analysts in May, with exports rising 15.3% and imports up 12.7 % year on year.
Wang said China would import more high-tech equipment, manufacturing components, energy and consumer goods, while helping small and medium sized exporters cope with a credit squeeze. 
China is scheduled to release its trade data for June on July 10. Analysts forecast the data will show that exports grew 9.9% from a year ago with imports up 12.7%. 
"The easing measures are probably still 'too little and too late', however, we still think that shown persistent weakness in the economy can be at least stabilized before autumn," says Aleksey Rybakov from investment group Trade Portal.