Central Bank sells $8 billion in September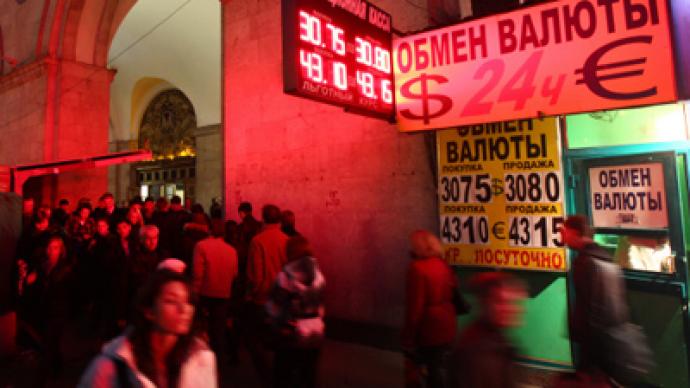 Central Bank Chairman Sergei Ignatiev has told journalists the bank sold $8 billion in September and $1.15 billion on October 4 to support the Russian currency.
­The Central Bank head was speaking after a volatile two months for the Russian currency which has seen it weaken against the Euro and Dollar.  After broadening the trading band against the bi-currency basket once over the last month CBR deputy chairman Sergei Shvetsov said that it hadn't been increased again this week, but Ignatiev did say that the Central Bank had been active in selling dollars.

"We sold $1.15 billion yesterday," he said, and adding "Yesterday there was more than usual. For the whole of September, around $8 billion."

Nicholas Solabuto, asset manager at Capital Group BCS, believes there are three basic scenarios for the exchange rate before the end of the year.
"With increasing demand for oil – prices will go up, capital will cease to flow out of Russia and rouble easily win back drop. Although, given the current trends in commodity markets, this sounds too optimistic. The second scenario is neutral. Increased fears of recession in the U.S. and the Euro zone would provoke more oil price volatility at around $100-110 per barrel and further stabilization at this level. In such circumstances, the rouble will stay around the current level of 32 roubles per dollar, plus or minus 1 rouble. This is the most likely scenario. The third scenario is the negative. If oil falls to $90 or below after negative news from Greece, for example, then the rouble may drop to 36 roubles per dollar by the end of 2011."

Ignatiev added that the Central Bank had not changed its full year capital outflow forecast of $36 billion, despite data showing that the outflow from January to September had already reached $49.3 billion.
"So far, we aren't changing anything,"  

Natalia Lesina analyst at ALOR believes it is possible the Russian currency will rebound later in October.
"In October, the rouble can restore some of the losses of September. The end month target for a dollar is 30.42 roubles. And the euro – 41.81 roubles."

Anton Startsev, analyst at FC Olma, says the pressure on the rouble is likely to remain but that interventions by the Central Bank are likely to limit dramatic shifts.
"The tendency for strengthening of the U.S. dollar against the rouble will remain, however recent interventions of the Central Bank and the stabilization of the situation in the stock market prevents from sudden corrections."