Capital One contract update: 'We can visit you at home or work at any time'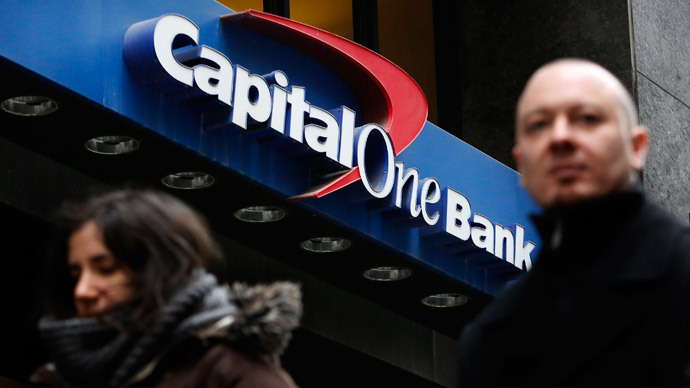 ​Top 10 US bank Capital One has shocked some customers with a new contract clause which apparently allows its representatives to arrive uninvited on their doorstep. The company insists the message has been misinterpreted.
The recent update in the company terms and conditions allows Capital One representatives to pay a visit anywhere the client is, "at your home and at your place of employment," as quoted by the Los Angeles Times.
Usually in the US authorities needs a court order to do something like that, as the Fourth Amendment of the Constitution guards against unreasonable searches and seizures. But Capital One claims it has the right to get up close and personal anytime, anywhere.
However, Daniel E. Kann, a Santa Clarita lawyer who specializes in illegal-search cases explained that the amendment applies primarily to searches and seizures, not civilians, and theoretically the bank may reserve the right to pay a visit to your office or home without applying to the police.
"It sounds really invasive, but I don't think it's a violation of your Fourth Amendment rights," Kann said.
Going further Cap One states that it "may modify or suppress caller ID and similar services and identify ourselves on these services in any manner we choose."
Theoretically it means that Cap One may confuse someone picking up the phone with a local number or camouflage itself as a friendly-seeming organization like a charity.
However, the US courts called such masking of the real caller a "non-harmful spoofing" and said it wasn't against the law. Such a trick is widely used by telemarketers.
Pam Girardo, a company spokeswoman, tried to explain the bizarre contract language, saying it distorted the real message Capital One was saying.
"Actually, we want our calls to display as Capital One on caller ID, and that's the way they are programmed," she replied. "However, some local phone exchanges may display our number differently. This is beyond our control, and we want our cardholders to be aware of that potential occurrence."
Besides that misunderstanding Mrs Girardo explained the new client visit policy.
"Capital One does not visit our cardholders, nor do we send debt collectors to their homes or work,"
The only reason, Cap One may attend the customer is in the case of sporting goods as the company has partnerships with jet ski and snowmobile manufacturers.
"As a last resort, we may go to a customer's home after appropriate notification if it becomes necessary to repossess the sports vehicle," Girardo said.
The Capital One spokeswoman told the LA Times they were "reviewing the language" of their messages to clients.
You can share this story on social media: