Russia and China warn of 'spillover effect' on global economy from US stimulus tapering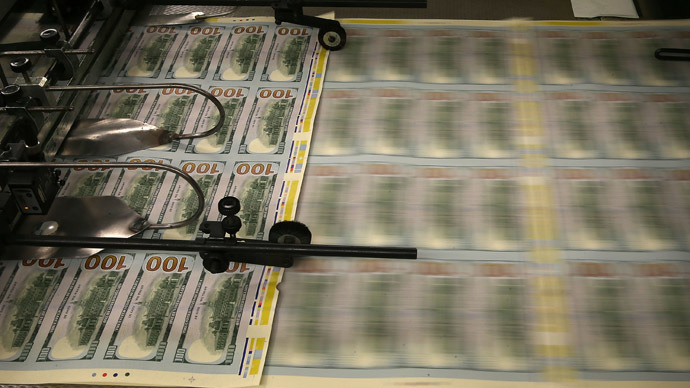 The looming wind down of the Fed's multi-billion dollar monetary stimulus package could have a profound impact on the global economy, trade partners Russia and China told the G20 summit in St. Petersburg.
China has urged the United States to be "mindful of the spill over effects" of the planned tapering of the country's monetary stimulus, as Zhu Guangyao, China's vice finance minister said during a meeting with Russian President Vladimir Putin at the G20 summit. The US should "work to contribute to the stability of the global financial markets, and the steady recovery of the global economy," Zhu added.
The vice finance minister also played down the possibility of a bailout for any country in financial difficulty.
Talking exclusively to RT, Russia's former finance minister Aleksey Kudrin said the end of "easy money" in the US "is going to fundamentally influence the global economy". However, though the tapering could be extremely painful right now, countries around the world need to reconcile the thought that such money injections could be just temporary, Kudrin added.
"Now we are witnessing an attempt to win time to reform the economy, to consolidate budgets, to cut expenses, to increase taxes, to overhaul social welfare, to stimulate some of the industries. … At a certain point this additional stimulus will have to be gone and the economy will have to function on its own," he said.
"Will it [the global economy] be able to? Which countries won't cope with the situation? We still don't know. So, we'll have to adapt to this new kind of situation. This is going to be a challenge", Kudrin concluded.
Emerging markets have been suffering, after Fed Chairman Ben Bernanke raised the possibility of winding down the Federal Reserve's $85 billion per month bond-buying programme in May. The announcement triggered a selloff in emerging market currencies, stocks and bonds and a flight to the dollar. Since then emerging markets have seen an exodus of cash, with their 20 most-traded currencies falling more than 5 percent.
Russia and China's ally in the BRICS club of emerging economies - India - has been the hardest hit by the expectations of the Fed's action. International investors have withdrawn nearly $12bn from India's markets since the beginning of June, sending the Rupee to record lows.

Arvind Mayaram, economic affairs secretary at India's Ministry of Finance also expressed concern about the end of the monetary stimulus programme: "I think there should be a very strong statement on the G20 having a consensus on the concern about the spill over effects."
The Fed is expected to take its first steps to reduce the extraordinary monetary stimulus this month, with potentially huge implications for a global financial system that has come to depend on a cheap and abundant supply of dollars.
You can share this story on social media: