Russia's losing bet: Anti-alcohol campaign drives away foreign brewers
Russia's shrinking beer market and the Kremlin's crackdown on alcohol are forcing European brewers to shift their beer strategy.
The beer industry in Russia is revealing itself to be more of a Russian roulette than the sure-bet Western brewers thought it was, when they heavily invested in a country infamous for its drinking habits. 

Brewing giants, Carlsberg and Heineken, pointed to more stringent alcohol laws in Russia as an obstacle that resulted in deep quarterly profit drops for both companies.

Copenhagen-based Carlsberg reported a $372 million profit loss in Q2, and Heineken, the world's third largest brewer, saw revenue drop by 2.7 percent, and reported a high single volume drop in 1H.

Carlsberg, which entered the Russian market in 2008 and owns the country's best-selling Baltika brand (38 percent market share), said the Russian beer market shrunk by 7 percent in the first half of 2013, and will shrink a total of 4 to 6 percent this year.

Along with Anheuser-Busch, both companies made by-the-book investments in Russia as part of a larger company strategy to tap into emerging markets. Sales soared between 2005 and 2007 by nearly 30 percent.

Since 2010, sales have dropped 20 percent by volume, and per capita consumption has shrunk by 13 percent, WSJ reported.

Year-on-year, beer production dropped by almost 4 percent in 2012.
Coors Light, a light American lager, pulled the plug on its Russian operations after three years of disappointing sales. Carling, also owned by the Molson Coors Brewing Company, and Britain's best-selling beer, will try its hand at the brutal Russian beer market, starting this September.
Anheuser-Busch closed two breweries in Russia in the last year, after sales dropped 13 percent, and has described the new alcohol laws and taxes as some of 'the toughest in the world'.
Heineken has sold one Russian brewery and another is up for sale.
An unseasonably long winter was also stated as a source of sales stagnation in 1H. 
'Beer war'

Sales have fallen flat as lawmakers enact legislation that is good for Russian society, but a sales nightmare for foreign brewers.

Past and present presidents, Dmitry Medvedev and Vladimir Putin, launched a Gorbachev-like anti-alcohol campaign in 2010 that plans to cut alcohol consumption in half by 2020.

In 1985, Michael Gorbachev, less than two months after becoming General Secretary of the Communist Party, banned alcohol from state functions and even issued directives to bulldoze vineyards in Moldova, Armenia and Georgia. Shortly after Gorbachev came out with the initiative, he was dubbed as 'the mineral-water-drinking secretary'.

The new legislation doesn't include leveling vineyards or raiding beer halls, but simply makes beer less accessible for consumption, especially in the bustling capital, where it is no longer sold in street stalls. 

The unlicensed beer kiosks, which have mostly been barred up or converted into vegetable stands or shoe-repair centers, accounted for 30 percent of all beer sales, The Moscow Times reported.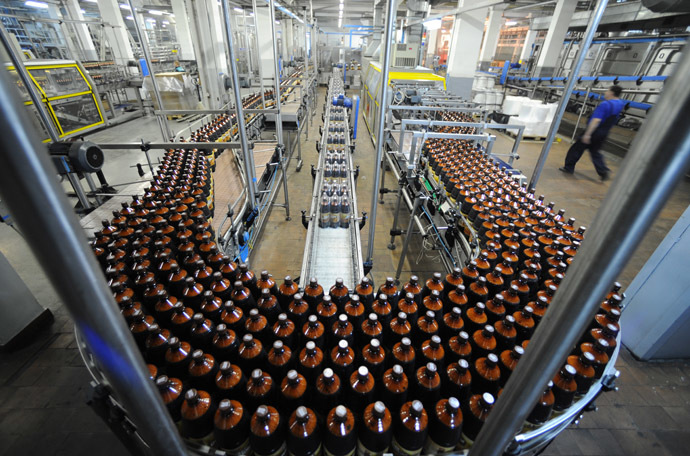 Before 2008, "There was super, super growth and it was fabulous to be a brewer, but it was probably a bit too good to be true," Ian Shackleton, a beer analyst at Nomura, told the WSJ.
"There was very little regulation. You didn't need a license to sell beer, duties were low and there were no limits on marketing. It was often cheaper than soda," said Shackleton.
Accessibility is further limited by vendor's sales hours. Previous twenty-four seven shops now forbid sales between 11:00pm and 8:00am.
The kiosk closure brings customers into more commercial grocery stores, where options include wine, spirits, and a much larger selection of less mainstream beers that Heineken, Carlsberg, and Anheuser-Busch sell. Beer consumption, in correlation, has slightly declined, and demand for vodka and spirits rises. The 20 percent 'beer tax' introduced in 2012 has also reduced official beer consumption in Russia. 
Booze backfire
The Kremlin could be hurting one of Russia's most profitable businesses and still not achieve their goal to eradicate alcoholism.

Similar to Gorbachev's campaign, the Kremlin's anti-alcohol measures have led to an increased amount of unofficial home-brewing of beer and moonshine.
"We know what the old days were like, what the fight with alcohol led to—people just started brewing homemade vodka and drinking denatured alcohol," said Putin, who advocates for gradual tax increases instead of sharp tax hikes to avoid a backlash.

The Russian Ministry of Finance wants to hike taxes on alcohol further, which would be more bad business for beer makers. The proposed tax would increase beer sales tax by an additional 4 percent.
You can share this story on social media: