Booze review: Senators seek demographic fix
Published time: 9 Aug, 2012 09:28
Edited time: 9 Aug, 2012 13:28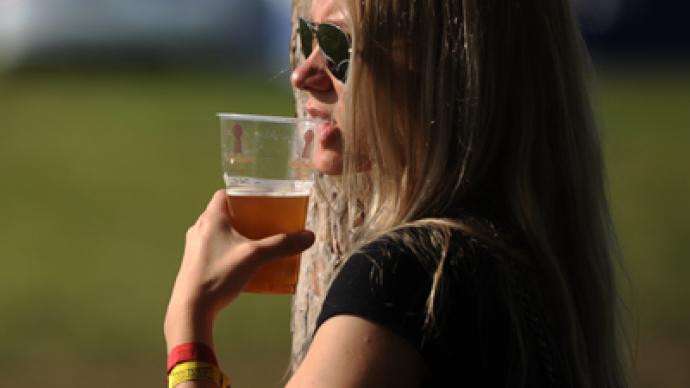 As Russia searches for ways to improve its demographic situation, a group of senators is taking aim against teenage drinking.
On a recent Friday night in the subuirbs of Moscow, Igor Andrianov, 17, is sharing a one-liter bottle of beer with a group of friends on a park bench. Although the legal drinking age in Russia is 18, Andrianov says he had his first taste of beer at the age of 14.
"We never had a problem buying alcohol, even vodka," he said with a shrug. "The women working in the kiosks might joke about our age, but they never refuse to sell us what we want."
This is exactly the type of loose attitude towards alcohol that Russia, gripped by a worrisome demographic picture, is trying to put a cap on.
"Teen alcoholism over the past 20 years has assumed a threatening scale and now 33 per cent of young men and 20 per cent of young women regularly consume alcoholic beverages," the head of the Federation Council Committee on Social Policy Valery Ryazansky said.
The age when children start drinking alcoholic beverages has decreased to 12 years, he added.
The senator admitted that although Russia has enacted legislation to keep alcohol away from adolescents, those efforts are falling short of the mark.
"Parliamentarians have passed a number of legislative acts in an effort to prevent alcohol from reaching adolescents: fines were increased for selling alcohol to minors and criminal penalties were introduced for repeated violations. Nevertheless, criminal offenses continue to occur," Ryazansky said.
The leading senator said he supports the proposal put forward by experts to raise the age that adolescents may purchase alcohol to 21, which is the norm in "most socially-oriented countries."
Ryazansky is realistic enough, however, to understand that legislation alone will not solve Russia's underage drinking problem.
"Prohibitive and punitive measures alone cannot solve the problem," he said, while stressing the need "to engage in preventive work, information technology and new solutions" to tackle the problem.
In July, Russia slapped a ban against alcohol advertising on television, radio, the internet, public transport and billboards.
According to the Ministry of Health and Social Development, there are more than 28 million alcoholics in Russia. Out of the nation's 10 million children who are between the ages of 11-18, more than 50 per cent reportedly use alcohol and beer regularly.
The ministry report also revealed that Russians begin to drink beer on a regular basis from the age of 12, wine from the age of 15 and vodka from the age of 16. According to the latest public opinion polls, alcoholic cocktail beverages rank as the bestsellers among teenagers in the 13-17 age bracket.
Russia currently leads the world in terms of alcohol consumption, at 18 liters per capita annually.
Experts have pointed to a number of factors responsible for Russia's drinking problem, including the availability of beer and alcohol, the prevalence of alcohol in the family, and advertising.
The move to curb teen alcoholism is the latest move by Russia to offset its demographic crisis, which was first brought to national attention by Vladimir Putin in 2006. He described it as the most serious problem facing the country, proposing radical measures to counter it.