Legal vodka production falls by one-third in Russia
Published time: 24 Jun, 2013 11:49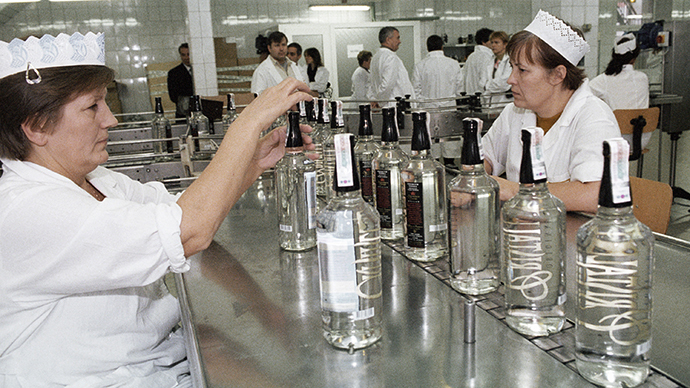 Production of Vodka decreased by 30% in May after the market was flooded with illegally made product following a rise in excise duty earlier this year.
Production volumes have been declining since the beginning of the year, business daily Kommersant reports.
The drop was 30.3% in January, 25.8% in February,  22.1%  in March , and 17.9%  in April. Spirits producers attributed the decline to large stocks made at the end of 2012 before a record increase in the excise tax, according to Kommersant.

The excise tax rose by 33% on January 1 which caused the minimum retail price of a half litre of vodka to rise to 170 roubles (around $6)

"We see that the manufacturers of counterfeit vodka have revived, " Kommersant quotes Aleksandr Mechetin  the head of spirit producer  "Synergy".

The illegal market has been boosted by smuggled  vodka from neighboring Kazakhstan, part of the Customs Union, says the vice president of the Russian Standard Igor Kosarev.

"The  excise tax is five times smaller there, so our market is very attractive to them," he said.

The fight against illicit trade was one of the main reasons for setting up the Federal Service for Alcohol Market Regulation in 2008.  The introduction of minimum prices for vodka, cognac and other alcoholic beverages more than 28 degree proof, and the change to the taxation system are among the measures taken by the organization.  After that the illegal vodka market shrank to 24% from almost 50%  in previous years, business daily Kommersant reports.

"Before the beginning of this year illegal vodka was washing out from the market. Now, thanks to a sharp increase in excise duty, the  process has reversed , " Kommersant quotes the chairman of the Union of Alcohol Producers Dmitry Dobrov.  He says legal production of vodka could decline even more in the future as illegal market is growing  as "the margin there now is just fantastic."
Illegal vodka now makes up a third of the market, Kommersant quotes experts.

The Russian Ministry of Finance plans to further raise taxes on alcohol. The excise tax on alcoholic beverages could  increase up to 25% on spirits, 14%  on wine, and 4% on champagne.

Russian vodka sales may decrease by a further third within five years due to the government's duty tax rises; its pressure on the illegal trade; and the shift by consumers to new categories,  Renaissance Capital estimates.

Vodka is still the most popular drink in the world, according to the recent report by the UK-based International Wine & Spirit Research (IWSR). The global consumption of vodka was 4.44 billion liters in 2012, according to the report. Russians were responsible for drinking nearly half the global total, the equivalent of 14 liters per person.
The US is the second biggest vodka consumer with 1.9 liters per person.

In 2012, global spirits consumption grew by 1.6% to 3.07 billion nine-liter cases compared to 6.5% growth in 2011, according to IWSR.