Mortgage crisis penalty estimated at $50 bln for 'Wolves of Wall Street' - report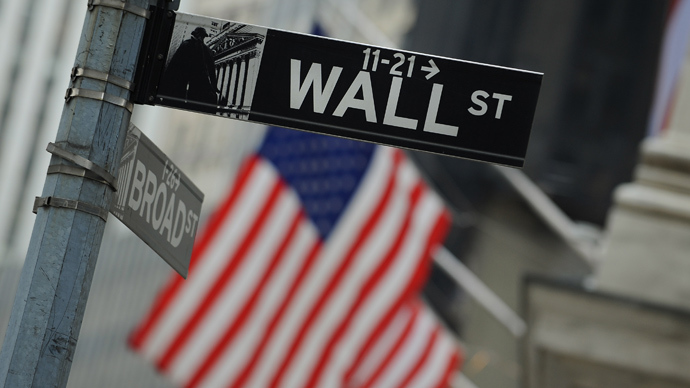 America's biggest banks could shell out nearly $50 billion to settle probes by government regulators who are after them for overstating the quality of mortgage bonds they sold, which triggered the 2008 financial crisis.
The new estimate was reported by The New York Times, citing industry insiders who are using JPMorgan Chase's record $13 billion payout in December 2013 as a benchmark to calculate how much each individual financial institution may need to pay.
A $50 billion payout from several financial institutions would equal about half of the bank's total profits in 2012.
JPMorgan Chase was accused of selling securities that roughly cost investors $22.5 billion, and since 2008 has paid out $22 billion in 18 separate investigative probes.
The New York Times analysis shows that Bank of America, the country's second-largest lender, could settle for $11.7 billion in penalties, plus an extra $5 billion to provide assistance and relief to homeowners. Morgan Stanley could face a $3 billion settlement, and Goldman Sach's total could be around $3.4 billion.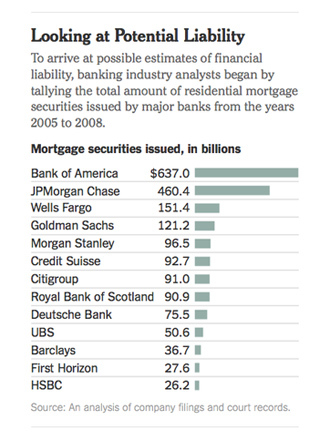 If Wall Street is fined $50 billion, up to $15 billion would go directly to the people affected by the bad loans, in either cash payments or loan reductions.
Sixteen banks are under investigation by the Justice Department and the Security Exchange commission for selling securities to investors and grossly overstating the quality of mortgage bonds without fully disclosing the risks.
Goldman Sachs have also come under fire from the Justice Department in civil fraud cases and is under investigation by the Security Exchange Commission and face millions in penalties.
Across the Atlantic, Britain's Royal Bank of Scotland could be hit with a $10 billion settlement, according to the analysis.
Previously, Standard & Poor's estimated that the eight largest US banks would collectively need to cough up between $56.5 billion and $104 billion to settle mortgaged related charges.
None of the banks have provided official comment on the anticipated financial payouts.
JPMorgan was investigated under the Financial Institutions Reform, Recovery and Enforcement Act, as part of a federal mortgage task force created by President Obama to aggressively go after banks and hold them accountable for wrongdoings during the sub-prime mortgage crisis that brought the American economy crashing down and into recession.
You can share this story on social media: