Acron posts FY 2010 Net Profit of 6.28 billion Roubles
Published time: 27 Apr, 2011 07:04
Edited time: 27 Apr, 2011 11:56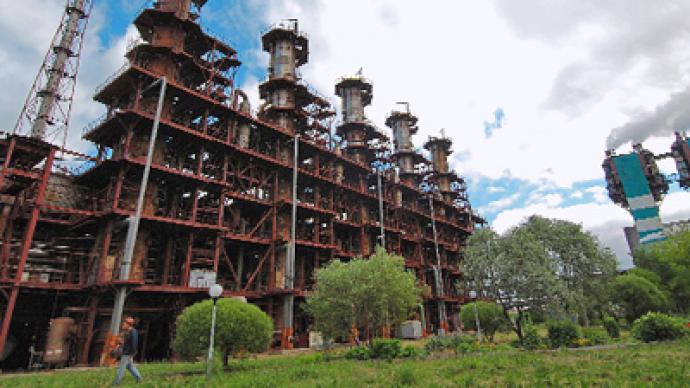 Russian fertilizer producer, Acron, has posted a FY 2010 Net Profit of 6.28 billion Roubles under IFRS.
The bottom line is down 13% from the 7.26 billion roubles posted for FY 2009, despite FY EBITDA increasing 42% year on year to 10.3 billion roubles, on the back of a 24% rise in revenues to 46.7 billion roublesfrom 37.5billion roubles a year before.
The Company said that higher net result in 2009 was mostly due to the sale of its stake in Sibneftegaz, which brought in 3.1 billion roubles in revenues.It added that the revenue increase reflected higher prices and increased sales volumes, particularly of value added product.
Alexander Popov, Chairman of the Board of Directors at Acron, was upbeat about the Group's performance and said that stable operations at all of its units, coupled with increasing its efficiency provided for sound results.
"Higher key financials and operating results were achieved by an approach emphasising secure operation of all facilities, increased efficiency and profit margins in all production business segments, including Hongri Acron, and intensive development of logistics and distribution. The Group's aggressive investments in mining production and the Oleniy Ruchey mine will result in independent phosphate supplies in 2012, which will improve the Group's business sustainability and competitiveness."
Popov added that that he expected further development s to come out of its investment programme, to buoy the outlook.
"In the beginning of 2011 conditions have remained favourable in the global mineral fertiliser market, and we anticipate further growth in operating and financial highlights. We will also continue implementing key investment projects to increase the shareholder value of the Group."