EU sharply upgrades Russian economy forecast
Projected GDP growth for the country has more than doubled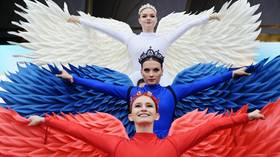 The European Commission (EC) has substantially raised its growth projection for the Russian economy this year, issuing revised figures in its Autumn 2023 Economic Forecast released on Wednesday.
Russia's economy is set to rebound on the back of "stronger-than-earlier expected domestic demand underpinned by fiscal stimulus," according to the EC.
Brussels now expects the sanctioned country's GDP to grow by 2% this year, a sharp increase from its May prediction of 0.9%. In 2024 and 2025, the Russian economy will grow by 1.6% each year, driven by strong domestic demand.
"The government's social programs and interest rate subsidies, accompanied by rising real wages on the back of a tight labor market, boosted household spending. Investment picked up too, supported by increased military production and ongoing efforts to establish new trading routes and supply chains," the report said.
According to the EC report, the Russian economy has proved to be much more resilient than Brussels expected after the sweeping sanctions intended to cripple it were imposed, as the country "succeeded in diverting a large share of its exports, especially commodities, to willing buyers, notably China and India."
Although inflationary pressure has not yet abated, and consumer price growth is projected to reach 6% in 2023, tight monetary policy is expected to bring inflation down in the coming years, to 4.6% in 2024 and 4% in 2025, the report stated.
The EC's projection is lower than the latest forecast by Russia's Economy Ministry, which expects GDP to grow by 2.8% this year.
For more stories on economy & finance visit RT's business section
You can share this story on social media: