China increasingly outpacing US in AI patents – Bloomberg
Beijing is pursuing self-reliance in critical tech sectors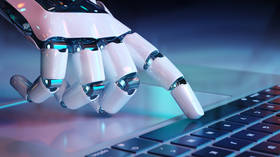 China has dramatically increased its lead over the US in AI patent filings, Bloomberg reported on Tuesday, citing data tracked by the World Intellectual Property Organization.
Chinese companies and institutions applied for 29,853 AI-related patents in 2022, compared to 29,000 in the previous year. The figure is nearly 80% more than US filings, which amounted to 16,805 over the same period, a year-on-year decline of 5.5% in the country's applications.
Japan and South Korea rounded out the 2022 leaders, having applied for 8,870 and 7,899 AI patents respectively.
According to the data, China has accounted for more than 40% of global AI applications over the past year.
Chinese companies have substantially boosted investments in AI and quantum computing after President Xi Jinping urged the nation to accelerate fundamental scientific research. Beijing is aiming to increase self-reliance in crucial areas, including chipmaking, space exploration, and military sciences.
The measures were taken amid Washington's latest efforts to curtail China's access to advanced technologies.
Chinese multinational technology company Baidu is currently vying with tech giants such as Alibaba Group and Tencent, as well as minor startups, including Baichuan and Zhipu, to create a local response to US rival OpenAI's groundbreaking generative AI chatbot ChatGPT.
Tech firms from China such as Huawei Technologies have already established a track record of leading innovation in the networking, supercomputing, and image recognition sectors.
The Asian nation has outpaced the US in the number of AI filings since 2017, when Chinese companies deployed algorithms in a wide range of businesses, from online shopping to ride-hailing.
For more stories on economy & finance visit RT's business section
You can share this story on social media: