IMF issues new negative global inflation forecast
Consumer prices across the world are expected to rise by 5.8% next year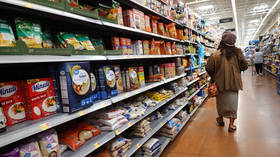 The International Monetary Fund (IMF) has issued an upward revision of its forecasts for global inflation to 6.9% this year and 5.8% in 2024, marking an increase of 0.1% and 0.6%, respectively, versus the projections made by the Washington-based institution three months ago.
On the other hand, global inflation is expected to steadily decrease from 8.7% in 2022 to 6.9% this year.
In its latest World Economic Outlook (WEO), the IMF left its forecast for global real GDP growth in 2023 unchanged at 3.0% but slashed the projection for 2024 by 0.1% to 2.9% compared to the prognosis made in July.
"The global economy is limping along, not sprinting," the fund said in its report, citing a slower-than-expected recovery from the impact of the coronavirus pandemic and Ukraine-related crisis.
As for the latest escalation of the Israeli-Palestinian conflict, IMF chief economist Pierre-Olivier Gourinchas noted that it is "too early" to assess the impact on the global economy, adding that the institution was "monitoring the situation closely."

"We've seen that in previous crises and conflicts, and of course, this reflects the potential risk of disruption either in production or transport of oil in the region," Gourinchas warned.
The IMF stressed that the slowdown is much more pronounced in advanced economies than in emerging markets and developing countries.
IMF analysts expect the slowdown in advanced economies to move from 2.6% scored last year to 1.5% in 2023 and 1.4% in 2024 due to stronger-than-expected momentum of the US but weaker-than-expected growth in the Eurozone.
For emerging markets and developing economies, the projected modest decline in growth rate is from 4.1% recorded in 2022 to 4% in 2023 and 2024, with a downward revision of 0.1% in 2024.
For more stories on economy & finance visit RT's business section
You can share this story on social media: