Russia can't keep up with inflow of Chinese imports – Bloomberg
Bilateral trade is expected to top $200 billion this year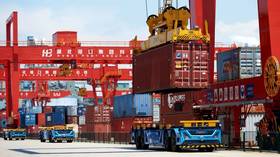 Shipping containers with goods from China are piling up in Russian rail depots in a sign of surging trade between the two countries, Bloomberg reported on Thursday.
Currently some 150,000 excess containers are stacked up, due to China sending so many goods that Russia cannot manage the glut of shipping boxes, the outlet said, citing an analysis by Container xChange, a trading platform based in Hamburg, Germany.
"There is significant cargo movement from China into Russia but very scarce movement back to China from Russia," Christian Roeloffs, co-founder and CEO of Container xChange, said in the report. This has a "tremendously detrimental impact on the business of container logistics because of the high imbalance of demand and supply."
Earlier this month, Germany's Kiel Institute for the World Economy released data revealing that for the first time since last year the volume of goods unloaded at Russia's three largest container ports was approaching levels seen at the outbreak of the Ukraine conflict in February 2022. The country's three most important ports are in St. Petersburg on the Baltic Sea, Novorossiysk on the Black Sea, and Vladivostok on the Pacific coast.
The surge in container flows comes despite Western sanctions that cut off Russia's old trade links and undermined traditional supply chains, prompting Moscow to expand to new markets.
Meanwhile, one of Russia's biggest logistics providers, Fesco Transport Group, signed contracts with Jilin Northeast Asia Railway Group and the Union of Chinese Entrepreneurs. "The parties plan to monitor existing container-shipping routes between Russia and China and jointly expand the pool of potential shippers in the China-Russia-China direction," Fesco said in a press release.
Trade between China and Russia has surged since last year, having jumped by 37% in the first seven months of 2023 to reach $134.1 billion, Chinese customs data shows. China's exports to Russia surged by 73%, totaling around $62.54 billion, while imports from Russia rose by 15%, to $71.6 billion.
The Russian government expects the trade volume with China to top $200 billion this year, surpassing the previous record of $190 billion reached in 2022.
For more stories on economy & finance visit RT's business section
You can share this story on social media: