UK defies environmentalists to tap controversial oil field
The government says the project will strengthen the country's energy security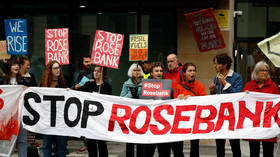 The UK has officially greenlit one of its biggest oil and gas projects in years, despite backlash from environmentalists.
The authorities announced the decision to develop the North Sea Rosebank field in a press release on the government's official website on Wednesday.
According to the announcement, the regulators have granted permission to Norwegian energy giant Equinor to develop the offshore deposit alongside Britain's Ithaca Energy. The companies hold 80% and 20% stakes respectively in Rosebank, which is considered the largest untapped oil field in the UK.
As noted in the press release, the permission to proceed with the project was granted with the intention to "strengthen [the UK's] energy security" and followed "extensive scrutiny by the regulators," including with regard to concerns over its environmental impact.
"The government has today welcomed the decision by regulators to approve the new Rosebank development... While the government is scaling up homegrown clean energy sources such as offshore wind and nuclear, the UK still relies on oil and gas and this will continue to be the case over the coming decades," the press release stated.
Equinor expects the field to start output in 2026-27 and produce around 300 million barrels of oil until 2051.
Plans to tap Rosebank have long been met with public backlash amid questions over its environmental impact. Campaigners had demanded that London halt development of the field, saying it goes against the country's goal of attaining net-zero emissions by 2050.
However, Prime Minister Rishi Sunak expressed support for the project in July, saying the UK needs new domestic sources of oil and gas to boost the country's energy security, and that it would be impossible to remove oil and gas from the energy mix by 2050. At the time, he also announced plans to issue more new oil and gas licenses in the North Sea.
Energy Security Minister Claire Coutinho said that Rosebank is expected to be less emissions-intensive than older oil and gas developments, largely due to the planned electrification of the extraction process.
"We will continue to back the UK's oil and gas industry to underpin our energy security, grow our economy and help us deliver the transition to cheaper, cleaner energy," she stated.
For more stories on economy & finance visit RT's business section
You can share this story on social media: