European country issues gas-pipeline warning
Serbian president Aleksandar Vucic says the TurkStream pipeline is critical for energy security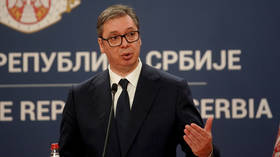 Serbian President Aleksandar Vucic has expressed hope that the TurkStream pipeline, which transports Russian natural gas to his country via the Black Sea, will be safe and secure, and that no one would attempt attacking it as happened with the Nord Stream pipelines.
Vucic's Thursday statement follows a warning by Hungarian Prime Minister Viktor Orban that both Budapest and Belgrade would consider any attacks on Russian gas-supply routes to the region as a pretext for war.
The Nord Stream pipelines, built to deliver Russian gas under the Baltic Sea to Germany, were rocked by blasts last September. The pipeline's operator, Nord Stream AG, said that the damage was unprecedented and it was impossible to estimate how long repairs might take.
No official results of investigations have yet been announced, but veteran US investigative journalist Seymour Hersh has claimed that the Nord Stream sabotage was orchestrated by Washington with help from Norway. The US has denied any involvement and rejected the allegations as "complete fiction."
"Of course, Victor [Orban] spoke conditionally. But the point is that we hope that no one will think of attacking the pipeline and leave us in the winter without what we've built and paid for," Vucic told reporters on Thursday when asked for comment.
"Both Hungary and the Serbs have no prerequisites that it is possible …" he added.
The Serbian leader stressed that any damage to the TurkStream or gas transmission systems would be a "cataclysm" for Serbia and Hungary. Both countries, whose economies heavily depend on Russian oil and gas, have opposed sanctions that would have prevented them from receiving supplies from Moscow. They have also refused to impose any restrictions of their own.
Meanwhile, a US state-run news outlet RFE-RL reported earlier that South Stream Transport, which operates the TurkStream gas pipeline, would not be able to repair the infrastructure in the event of damage, as the Dutch government has revoked its license. The Netherlands-based operator of the offshore portion of the pipeline, South Stream Transport is a subsidiary of Russian energy giant Gazprom. The company was forced to reapply to the Dutch authorities for a renewal of an export license, which was withdrawn last September amid wider sanctions from the European Union.
For more stories on economy & finance visit RT's business section
You can share this story on social media: