Brazil ramps up purchases of critical metal from Russia
Nickel exports are at their highest level in nearly two decades, RIA Novosti reports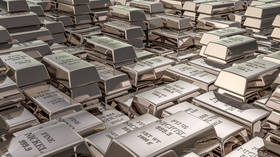 Imports of Russian nickel by Brazil stood at $11.1 million in July, the highest level since 2005, RIA Novosti reported, citing official data.
Analysis by the outlet showed that supplies had more than doubled when compared to June. In absolute terms, Brazil's imports of Russian nickel rose to 435.9 tons in July, the largest amount since July 2019.
Russia was the top supplier of nickel to the South American nation in July, followed by Norway with deliveries worth $10.4 million, and the US at $7.3 million. The top five also included Germany ($4.7 million) and South Africa ($3 million).
A key component of lithium-ion batteries, nickel is used in everything from home appliances to electric cars, and is a major component for producing stainless steel.
The International Energy Agency (IEA) estimates that demand for nickel could soar nineteenfold by 2040 if nations fully meet the goals of the Paris Climate Agreement by reducing greenhouse gas emissions and limiting global warming to pre-industrial levels.
Russia produces nearly 10% of the global nickel supply. State-owned company Norilsk Nickel is number one in the world in terms of production of high-grade nickel, with a share of more than 20%.
Moscow has redirected its metal exports from Western countries to alternative markets due to sanctions imposed by the EU and US. According to Trade Minister Denis Manturov, priority destinations for Russian exports are China, Türkiye, South East Asia, member states of the Russia-led Eurasian Economic Union, and CIS countries. Russia will also focus on the Latin American, African, and Middle Eastern markets, Manturov added.
For more stories on economy & finance visit RT's business section
You can share this story on social media: