Use of euro in global payments nosedives – data
SWIFT cross-border transactions in the single currency hit a historic low in July, according to RIA Novosti analysis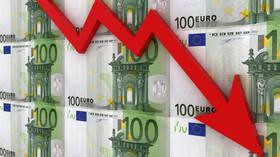 The use of the euro for international settlements dropped to its lowest level on record in July, RIA Novosti reported this week, citing data from SWIFT.
Statistics showed that the proportion of cross-border transactions involving the world's second most popular currency fell to 24.4% last month, down by 6.83 percentage points on the previous month.
Payments using the US dollar climbed to 46.4%, while cross-border transactions with the Chinese yuan rose to more than 3% – the highest level since the start of 2022. The yuan's share in global trade has been steadily growing in line with Beijing's efforts to internationalize the use of its currency.
SWIFT (the Society for Worldwide Interbank Financial Telecommunications) continues to be the major tool for processing global payments. However, in recent years alternative inter-banking messaging systems have appeared.
Russia started developing its own national payment system when the US targeted the country with sanctions in 2014. The SPFS ensures the transfer of financial messages between banks both inside and outside the country. Russia's Mir cards entered circulation in December 2015 and are currently used in a number of countries.
China also has its own payment system, CIPS (Cross-Border Interbank Payment System), while India has the SFMS (Structured Financial Messaging System). Russia and its trade partners have been increasing the use of local currencies in settlements, and are working towards establishing a new reserve currency amid Western sanctions on Moscow.
For more stories on economy & finance visit RT's business section
You can share this story on social media: