EU facing winter gas shortage risk – IEA
Full storage sites are no guarantee against volatility, the agency has warned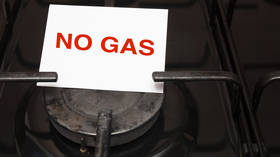 EU members face a potential gas shortfall in the event of a cold winter and a further decline in Russian deliveries, the International Energy Agency (IEA) has warned.
According to a report released on Monday, market fundamentals have eased significantly since the start of 2023 and the EU is well on track to fill storage sites to 95% of working capacity.
However, full storage is still no guarantee against winter volatility, the agency cautioned. "Our simulations show that a cold winter, together with a full halt of Russian piped gas supplies to the European Union starting from 1 October 2023, could easily renew price volatility and market tensions," the IEA stated.
The report highlighted that a steep decline of almost 80 billion cubic meters (bcm) in Russian gas deliveries to the EU – equating to 15% of global LNG trade – placed "unprecedented pressure" on global gas markets in 2022.
The supply shock led to a reconfiguration of global LNG flows, drove natural gas prices to all-time highs, and necessitated a readjustment in demand, the IEA wrote. Global natural gas consumption dropped by an estimated 1.5% last year, similar to the fall experienced in 2020 following the first wave of Covid lockdowns.
According to the report, a cold winter could increase natural gas demand in the EU's residential and commercial sectors by 30 bcm compared to the 2022/23 heating season. "Given geopolitical uncertainties, a further decline in Russian piped gas deliveries to the European Union cannot be excluded. If Russian piped gas supplies were to fully stop from 1 October 2023, it would result in a total shortfall of 10 bcm," the IEA said.
The EU previously covered about two-fifths of its gas needs through Russian energy imports, but stepped up efforts to lower its dependence early last year as part of its Ukraine-related sanctions policy. The bloc has already banned Russian seaborne oil deliveries, as well as joining the G7 countries in placing a price cap on Russian crude.
As a result of the sanctions and the sabotage of the Nord Stream pipelines, Russian gas supplies to the EU have dropped to record lows. Norway is currently the single-largest gas supplier to the bloc, according to the IEA.
To make up for lost Russian pipeline gas, the EU has been boosting imports of LNG, including from Russia. According to Brussels-based economic think tank Bruegel, the bloc's LNG imports from Russia in 2022 reached a three-year high at 19.2 bcm.
For more stories on economy & finance visit RT's business section
You can share this story on social media: