Biggest buyer of Russian grain revealed
Egypt has imported nearly 12 million tons of wheat from Russia since July 2022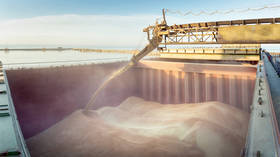 Egypt was the largest buyer of Russian wheat in the 2022-2023 agricultural year, according to data from the Russian Grain Union (RGU) cited by the Agrotrend news outlet.
The North African country imported 11.9 million tons of Russian wheat during the stated period, amounting to 22.5% of all Russian exports.
Türkiye was the second biggest importer with 10.2 million tons (19.3% of Russian exports), followed by Algeria (3.3 million tons), Iran (3.1 million tons), and Saudi Arabia (3.1 million tons). Pakistan, Libya, Bangladesh, Israel, and Sudan were also among the top 10 importers.
According to Elena Tyurina, head of the RGU's analytical department, Russian traders exported upwards of 53 million tons of wheat to foreign markets, almost one and a half times more than the previous year. Exports in June surged to record highs of 4.2 million tons, although they traditionally fall by the year end. They were uncharacteristically high throughout the second half of the year, Tyurina noted.
The expert linked the trend to several factors, including high demand from traditional buyers of Russian wheat, the addition of buyers from countries that had not previously contracted Russian grain, and a drop in prices due to the recent reduction of export duty. A number of traders also bought wheat in advance amid concerns of a supply shortage on the global market in 2023-2024, Tyurina added.
According to RGU calculations, Russia's total grain exports last year amounted to 61.8 million tons, a record high and a surge of nearly 45% against the previous season.
Russia harvested a record grain crop last year, with farmers gathering more than 150 million tons of grain, including over 100 million tons of wheat.
For more stories on economy & finance visit RT's business section
You can share this story on social media: