Russia comments on grain deal extension
Moscow sees "no grounds" to prolong the deal, since it did not meet its original goals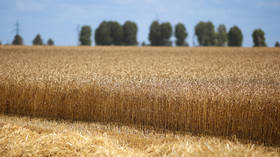 Russia sees "no grounds" to prolong the Ukrainian grain deal past its July 17 deadline, the country's Foreign Ministry announced on Tuesday.
The UN-facilitated agreement, formally known as the Black Sea Initiative, has failed to meet its original goals of steering grain towards poor nations, the ministry claimed. Instead, it has become a "purely commercial" scheme that ships produce to wealthy countries, while Russian food and fertilizer exports remain blocked.
With the grain deal set to expire later this month, the collective West, Ukraine and even the UN itself have ramped up their "propaganda activities" on the matter, the ministry said in a statement.
"The arguments boil down to claims that, without Ukrainian fodder corn, the world will die of starvation, while the illegal unilateral sanctions imposed by the West against Russia do not apply to food and fertilizers," it noted.
In reality, the grain deal has become a "purely commercial" mechanism to export Ukrainian produce to "well-fed" countries instead of those experiencing food insecurity, the ministry continued. Some 81% of produce shipped from Ukraine under the deal in the past year ended up in countries with "high and upper middle income levels," it said, adding that the world's poorest countries, including Ethiopia, Yemen, Afghanistan, Sudan and Somalia, accounted for only 2.6%.
Meanwhile, the situation regarding blocked Russian food and fertilizer exports "continues to degrade," the ministry noted. The five "system" goals envisioned by the Russia-UN memorandum remain unmet.
They include allowing Russia's major agricultural lender, Rosslekhozbank, back onto the SWIFT payments system, enabling deliveries of spare parts for agriculture machinery, reanimating the Tolyatti-Odessa ammonia pipeline, sorting out insurance and logistics, as well as "unfreezing" Russian assets. The first three goals are effectively "no longer on the agenda anymore," while no tangible progress has been shown on the other two, the ministry said.
Against such a backdrop, Moscow sees "no grounds" to prolong the grain deal, the statement concluded. Originally signed on July 22, 2022 and intended to last three months, the deal was prolonged numerous times over the past year, despite growing concerns repeatedly voiced by Moscow over its failure to provide any benefits for Russia.
You can share this story on social media: