UK housing market falls at fastest rate since Great Financial Crash
Demand for new homes has dropped as families cannot afford increased mortgage costs, Halifax has said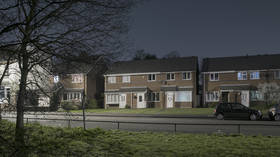 House prices in the UK fell at the fastest annual rate seen in 12 years last month, Britain's major mortgage lender, Halifax, announced this week.
Prices for June dropped for the third month in a row by 2.6% year-on-year, after a 1.1% fall in May, in the largest decline since June 2011, according to Halifax. The average cost of a home in Britain totaled £285,932 ($364,320) last month, the lender said in a statement.
The latest slump comes as soaring mortgage rates, driven by a series of interest rate hikes by the Bank of England to curb inflation, have sent jitters through the housing market.
Kim Kinnaird, the director of Halifax Mortgages, said that the "resulting squeeze on affordability will inevitably act as a brake on demand" as buyers consider what they can realistically afford.
Concerns about persistent inflation have led to a significant increase in the cost of funding, according to Kinnaird. Coupled with the base rate rising by another 0.5 percentage points to 5%, this contributed to a "big jump" in typical mortgage rates over the last month.
"With markets now forecasting a peak in Bank Rate of over 6%, the likelihood is that mortgage rates will remain higher for longer, and the squeeze on household finances will continue to put downward pressure on house prices over the coming year," he added.
Traders are expecting the Bank of England to further increase rates to 6.5% by December, which would be the highest level since 1998. Analysts project house prices in the UK to drop as much as 10% from their peak in the summer of last year.
For more stories on economy & finance visit RT's business section
You can share this story on social media: