France counts economic cost of unrest
Riots and looting after a teenager's death have affected hundreds of businesses in the country's second-largest city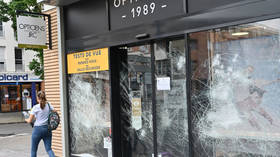 The economic cost is mounting in France after the fatal police shooting of a teenager sparked widespread unrest. Some of the worst violence and looting was reported in the southern port city of Marseille, where 400 businesses were vandalized, the local Chamber of Commerce and Industry has revealed.
"All types of businesses have been targeted, especially those with valuable merchandise," the head of the chamber for Aix-Marseille-Provence, Jean-Luc Chauvin, told France Info on Sunday. An initial estimate by insurers has put the cost of the damage at more than €100 million ($109 million), a number that will undoubtedly rise, he added.
According to Chauvin, for some stores it will take months to repair the damage, in particular those that were set on fire or whose stock was completely stolen.
France has been gripped by violent protests since Tuesday, after police in the Paris suburb of Nanterre shot and killed a 17-year-old French-Algerian boy identified as Nahel M. when he reportedly refused to comply during a traffic stop.
The officer who fatally shot Nahel was swiftly arrested and charged with homicide, although the incident triggered a wave of nationwide violence that has since spilled over into Belgium and Switzerland.
French authorities deployed 45,000 police, including in Marseille, after streets were overrun by youths who started fires and attacked officers, public buildings and stores.
The number of arrests reportedly dropped to 157 overnight from Sunday to Monday, in what was the sixth consecutive night of violence. A peak of 3,880 arrests was recorded on the night of June 30, according to the French Interior Ministry.
For more stories on economy & finance visit RT's business section
You can share this story on social media: