Struggling British households tap into rainy-day funds
Withdrawals from savings accounts hit a record high in May, Bank of England data shows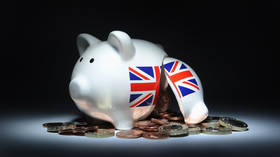 UK households withdrew a record £3.8 billion ($4.8 billion) from their savings in May in the wake of rising borrowing costs, according to data from the Bank of England.
This was the biggest monthly outflow in 26 years, since records began in 1997.
There was a spike in withdrawals from easy-access savings accounts, with $18.5 billion withdrawn from these in May.
Some of the cash was likely redirected into fixed rate savings accounts, which pay higher interest, and individual savings accounts (ISAs), which are tax-free. Britons also paid over $1 billion into the government's National Savings and Investment bank, data shows.
The Bank of England's efforts to rein in stubbornly high inflation have been driving up home loan payments, adding to the cost-of-living crisis. Meanwhile, the jump in interest rates has slowed the rate of borrowing.
Major British lenders announced on Thursday another increase in mortgage rates offered via brokers, taking the average rate above 6% in many cases.
Data shows that UK lenders approved 50,524 mortgages in May, up from a revised 49,020 in April, but down from around 66,000 in May 2022 before the rise in borrowing costs started to weigh on the housing market.
"We suspect [consumer lending] will decline further in the coming months as the growing drag from higher interest rates may mean households cut back," economist Ashley Webb from consultancy Capital Economics told Reuters.
For more stories on economy & finance visit RT's business section
You can share this story on social media: