Musk-Zuckerberg cage fight could become biggest earner in history – UFC
The event would trump all others as the most-watched fight, according to UFC president Dana White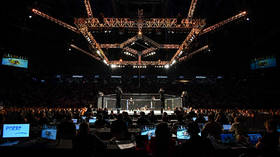 A proposed cage match between tech billionaires Elon Musk and Mark Zuckerberg would be the most profitable fight in history, the Ultimate Fighting Championship's president told TMZ Sports this week.
Dana White said the broadcast "would break all pay-per-view records," referring to the standard television service used to broadcast UFC fights.
"This would be the biggest fight ever in the history of the world, bigger than anything that's ever been done," White predicted.
A standard UFC PPV costs $80, but White said he would charge $100 for the Musk-Zuckerberg face-off. So far, the biggest PPV in history was a boxing match between Floyd Mayweather and UFC superstar Conor McGregor in 2017, White said, which generated 4.3 million domestic PPV buys and more than $600 million in total revenue.
"I just think [the potential Musk-Zuckerberg fight] triples what that did," White said, implying that the bout could bring in over $1.8 billion. He added that "there's no limit on what that thing can make."
Elon Musk and Mark Zuckerberg, the No. 1 and No. 10 richest men in the world, have been trading barbs on social media for several days, following news of Zuckerberg's plan to launch a rival to Twitter. Their to-and-fro resulted in Musk challenging Zuckerberg to a "cage match," which drew the response: "send me location." Musk then tweeted: "Vegas Octagon," the famed arena that hosts UFC fights.
The proposed match has sparked a storm of speculation on social media. But Musk's mother, Maye Musk, called on the public to not "encourage this match" in a tweet on Thursday.
According to White, who said he spoke with both Musk and Zuckerberg, they are both serious about the contest. White said he was already in the "early stages" of planning the fight, but declined to speculate as to when it might take place.
For more stories on economy & finance visit RT's business section
You can share this story on social media: