Western sanctions de-globalize world economy – Moscow
Restrictions have forced Russia to reexamine principles for choosing foreign partners, its finance minister tells RT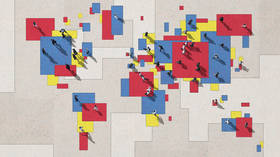 Western countries have harmed their credibility and undermined the principles of economic globalization with the sanctions they placed on Russia over the past year, Anton Siluanov, Russia's Finance Minister, told RT during the St. Petersburg International Economic Forum on Thursday.
He said the global community has already "tired of sanctions," and that the general understanding is the restrictions have failed to achieve the results hoped for by the countries that imposed them.
"The world is changing and we are changing with it. We are seeing countries that were once considered advanced economies erode their credibility with regard to reserve currencies, the rules of trade, capital flows, etc. The rules that used to work within the framework of globalization and all the benefits that countries were receiving from globalization are collapsing," Siluanov said, adding that sanctions have backfired on the countries that introduced them.
"Steps to exclude Russia from the global economic system could not be introduced without affecting these countries… They have inflation... and rising energy prices, and a decrease in competitiveness – this is the result of de-globalization, and it was not initiated by [Russia]."
Sanctions forced Russia to reevaluate the principles which it adheres to when choosing foreign partners, Siluanov explained.
"Russia chooses its partners not on the basis of what they can offer, but on the basis of who is friendly to our country and ready to trade with us as equals, rather than a set conditions. This policy will be pursued, as it is useful because it gives us an impetus to reform trade markets and improve logistics."
According to Siluanov, Russia has adapted to the new economic realities "decently" by restructuring the economy within just a few months.
"We have not lost in foreign trade, we have found new markets… China, Türkiye, Gulf countries, [and] India are partners with whom trade has increased… Russia's economy not only hasn't slumped, it's growing," he stated.
"We are reconfiguring the economy so that goods, products and services, which we used to import from the West, we now produce ourselves or buy from the countries willing to trade with us."
Siluanov stressed that Russia would continue to de-dollarize its foreign trade and switch to settlements in national currencies due to a loss of trust in the US currency.
"The dollar has jeopardized the principles on which the global payments system was built – Russian reserves were frozen, along with Russia's ability to make payments in dollars and euros, the so-called reserve currencies, which as it turned out are unreliable.
"Using dollar and euro as a lever in foreign policy issues, [Western countries] undermined the credibility of these currencies... The process of replacing the dollar with more reliable currencies has begun," the minister said, adding that apart from Russia and China, more and more countries are beginning to settle accounts in their national currencies or the currencies of those "who have earned their trust."
For more stories on economy & finance visit RT's business section
You can share this story on social media: