EU country's debt hits historic high
Italy is the second most-indebted member state in the Eurozone, after Greece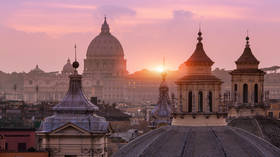 Italy's sovereign debt has continued to soar, jumping by €17.8 billion ($19.3 billion) in March in monthly terms to hit a record high of €2.79 trillion ($3 trillion), according to the country's central bank. The previous all-time high was reached in February, when debt amounted to €2.78 trillion.
The Bank of Italy said on Monday that the surge was driven by an increase in the public sector's borrowing requirement of €31.3 billion ($34 billion), which was partially offset by a reduction in the Treasury's liquid assets to €29.4 billion.
"New historic record! A worrying and alarming exponential rise given the rate hikes due to the ECB's new restrictive monetary policy," stated Massimiliano Dona, president of the National Consumer Union.
According to Dona, if the government debt were divided among the Italian population, it would amount to €47,405 per citizen, or €106,446 per household.
"Now planning to reduce taxes for everyone with the flat tax means either making fun of the Italians, recovering what you give with the rates with deductions and charges, or getting the country into trouble," Dona warned. "For this reason, the government would do well, for the moment, to limit itself to limiting electricity and gas bills, restoring discounts on system charges in the bill."
Soaring energy prices have exacerbated the cost-of-living crisis in the EU's third largest economy and have pushed up the level of public debt, which amounted to 144% of GDP between October and December 2022, according to the latest data from Eurostat.
Italian officials have lashed out at the European Central Bank over its monetary policy, claiming that rate hikes aimed at taming inflation have piled more financial pressure on one of the Eurozone's most indebted countries.
The ECB once again increased rates last week, hiking them to 3.25% in an attempt to curb double-digit inflation across the Eurozone.
For more stories on economy & finance visit RT's business section
You can share this story on social media: