EU seeks to expand ban on Russian pipeline oil – Bloomberg
Brussels could restrict imports by Germany and Poland, which have been exempted from sanctions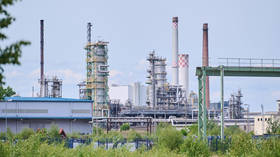 The EU has proposed a halt to Russian oil flows to Germany and Poland via the Druzhba pipeline as part of its next round of sanctions, Bloomberg reported on Friday.
According to documents seen by the outlet, exemptions allowing flows through the southern branch of the route, which supplies Hungary, Slovakia, and the Czech Republic, will remain in place.
An EU embargo on imports of Russian seaborne oil came into effect on December 5, but flows of pipeline oil to landlocked member states have been excluded from the ban.
Under a derogation from EU sanctions granted last June, Germany and Poland have been allowed to continue receiving oil through the northern section of the Druzhba pipeline. While both countries have already stopped receiving Russian crude via the energy channel, Germany continues to import Kazakh crude which transits through Russia.
"While such a step would be largely symbolic given that the two nations already stopped [importing crude], the cutoff itself forced several refineries to engage in challenging logistics to access alternative crudes," Bloomberg wrote. It noted that at least one of the facilities, the PCK Schwedt plant near Berlin, has been forced to make less fuel for the region it serves.
The proposal to end the derogation for Germany and Poland would be part of the EU's 11th package of Russia sanctions, but would need the backing of all member states. The situation could change as talks continue, Bloomberg noted.
Germany and Poland averaged about 480,000 barrels a day of imports via the Druzhba pipeline in 2022, according to the report.
Warsaw has been among the most strident supporters of an EU-wide ban on Russian energy, despite Polish state-owned company PKN Orlen previously reporting that it was forfeiting $27 million per day due to the price difference between cheap Russian oil and more expensive sources. Poland abolished its last supply contract in spring after Russia halted shipments in February.
According to Bloomberg, there was no discussion about banning the small amount of Kazakh oil supplied via the Druzhba pipeline, as imports originating from third countries, including transits via Russia, have been permitted.
For more stories on economy & finance visit RT's business section
You can share this story on social media: