Poland losing billions over Russian oil ban – FT
Forced to seek out more expensive sources, Warsaw's state-owned oil company is losing $27 million every day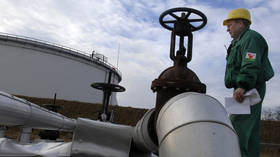 Polish state oil firm PKN Orlen is forfeiting $27 million per day due to the price difference between cheap Russian oil and more expensive sources, its CEO told the Financial Times on Sunday. Despite Warsaw's ban on Russian crude hurting its coffers, the company wants even stricter sanctions applied.
Poland pledged last March to stop importing Russian oil by the end of 2022. For PKN Orlen, this means that the oil it buys is now priced $30 higher per barrel than before, CEO Daniel Obajtek told the newspaper.
"I wouldn't call it a loss," he insisted. "This is a market cost that applies to every company that does not import oil from Russia."
While the EU has banned seaborne oil imports from Russia, it has so far exempted Russian crude oil transported along the Druzhba pipeline – which links the Russian heartland with Ukraine, Belarus, Poland, Hungary, Slovakia, the Czech Republic, Austria, and Germany.
Poland has been one of the most strident supporters of an EU-wide ban on Russian energy, yet PKN Orlen continued to purchase Russian oil for domestic consumption via the Druzhba line, going as far as suing the pipeline's Russian operator – Tatneft – in March when the flow stopped due to nonpayment.
The company severed its contract with Tatneft last month, but continues to process Russian oil at its refinery in the Czech Republic.
"The complete replacement of Russian oil requires an improvement in the logistics of oil supplies, which we are working on with the Czech government," Obajtek offered to the Financial Times as an explanation.
Obajtek condemned Germany for purchasing Kazakh oil via the Druzhba line, declaring that "the German side should better rethink the morality of what they are doing." He went on to claim that Russia is using middlemen to sell refined petrochemical products in Europe despite the sanctions.
"To sum up," he said. "I think that sanctions should be more severe."
Obajtek has a financial interest in criticizing Germany's use of a Russian pipeline to import Kazakh oil. He explained that his company is "very interested in the German market," and plans to sell petroleum to the country as "a kind of diversification alternative."
You can share this story on social media: