Türkiye defers payment for Russian gas – Reuters
Gazprom has agreed that Ankara can postpone $600 million in payments until next year under a new deal, sources told the outlet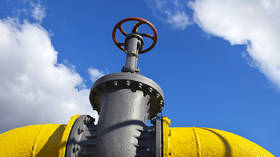 Türkiye has agreed with Russia to delay a $600 million natural gas payment until next year, Reuters reported on Wednesday, citing sources.
Last week, Ankara announced an agreement with Russian energy giant Gazprom on deferring payment for part of the natural gas it imported, after a surge in prices last year, without specifying the amounts involved.
However, sources have told Reuters on condition of anonymity that Türkiye may defer up to $4 billion in energy payments to Russia until 2024 under the terms of the agreement.
Ankara's current account deficit soared last year, driven by an increase in energy сosts. Türkiye reportedly spent almost $100 billion on energy imports in 2022. In the year to February, the country imported 39% of its total 53.5 billion cubic meters (bcm) of natural gas from Russia.
The delay on gas payments is seen as relief for the Turkish budget, which has been strained largely due to the fiscal policy to support the lira.
"Officially a payment worth $600 million has been postponed to next year. The increase in energy prices had a huge impact on this," Reuters said, citing a source.
The outlet added that further payments could be pushed back in the coming months, depending on energy prices.
Türkiye is highly reliant on oil and gas imports from Russia, Azerbaijan, Iran, Nigeria, and Algeria, as well as on liquefied natural gas supplies from Qatar and the US.
For more stories on economy & finance visit RT's business section
You can share this story on social media: