IMF cites weakness in Western sanctions on Russia
Resilient oil exports have bolstered the country's economy, a report has found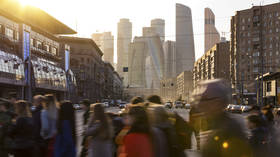 The Russian economy has proven to be more resilient to sanctions than anticipated, the International Monetary Fund (IMF) reported on Friday.
According to the IMF, Moscow has managed to redirect its energy exports from sanctioning to non-sanctioning countries, and saw its oil and gas revenues hit record highs last year, driven by soaring energy prices. This helped the Russian economy bounce back strongly in the third and fourth quarters of 2022, limiting the overall drop in output to 2.1%, the IMF wrote, in its latest regional report.
The momentum from the second half of last year will carry over into 2023, with growth for the year projected at 0.7%, the report added.
Natural gas and crude oil prices hit record highs last summer in the world markets following sanctions-related restrictions on supplies from Russia, a leading energy exporter. This year, however, the prices dropped to levels seen before February 2022, following a mild winter in Europe and a price cap on Russian oil.
According to the IMF, it is still too early to assess the impact of the sanctions, but "the price cap on crude has not led to a decline in Russian oil volumes so far."
Nevertheless, lower prices will lead to a sharp decline in Russia's fiscal revenues this year, the report predicts.
The IMF forecasts Russia's output in 2027 to be around 8% lower than predicted before the start of the military operation in Ukraine.
According to estimates released by the Bank of Russia on Friday, the economy will grow by up to 2% this year, supported by growing domestic demand and the country adapting to sanctions.
For more stories on economy & finance visit RT's business section
You can share this story on social media: