Russian tycoon warns about global debt levels
Sanctioned businessman Oleg Deripaska says the situation "may well get out of control"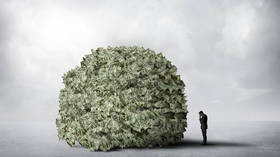 One of Russia's richest men has warned that a surge in global debt and rising interest rates will lead to an imbalance in the global financial system. Sanctioned businessman Oleg Deripaska made the comments on his Telegram channel on Monday.
The record debt which global governments, households, financial corporates, and nonfinancial corporates owed exceeded $290 trillion last year, Deripaska claimed. The world's leverage is at a higher level than pre-global-financial-crisis peaks, yet the demand for debt is likely to continue, according to the billionaire.
The volume of state debt has become critical in the US, he pointed out. Last year, the country allocated $475 billion to service loans and, according to forecasts, it will be forced to spend as much as $767 billion by 2025, more than the 2022 defense budget.
The US debt ceiling and China's persistent domestic debt problems are posing a threat to the global economy and could trigger an event similar to a recession shock, as the governments of these major economies are expected to boost their borrowing in coming years, according to Deripaska.
"This is a sign for all developing countries that they risk falling into the deepest debt hole, unable to print funds to repay or service debt. Rising interest rates will inevitably unbalance the entire global financial system, and the situation may well get out of control," Deripaska warned.

"This madness" with the world's financial system "going to pieces" could have been avoided if there were "truly effective" mechanisms for settling disputes between countries within the framework of the international legal system, he added.
The founder of the world's second-largest aluminum company, Rusal, has also advocated "a pragmatic reform of the UN and other institutions."
For more stories on economy & finance visit RT's business section
You can share this story on social media: